Various Eyepiece and Accessory Reviews
Page 4 -- By Ed Ting Updated 5/25/00
---
1) Book: The Night Sky Observer's Guide (2 Volumes)

2) Rigel Systems Quik Finder

3) Meade 7 mm Research Grade Orthoscopic

4) Canon 10X30 Image Stabilized Binoculars

5) TeleVue/ Vixen/ Meade Series 4000 8-24 mm Zoom Eyepiece

6) Absolute Astronomy's Filter/Eyepiece Cases

7) Takahashi 6X30 finder

8) Takahashi Teegul (Large) Alt-Az Mount

9) Orion 16X80 Binoculars

10) Fujinon 10X70 binoculars

11) Leitz 30 mm eyepiece

12) Siebert 12.5 mm, 32 mm eyepieces, 6X50 finders
---
1) Book: The Night Sky Observer's Guide (2 Volumes)
(Kepple and Sanner, $29.95 each volume, Willman-Bell) (Volume 1: Autumn & Winter, 430 pages, Volume 2: Spring & Summer, 506 pages)
Impressive achievement. "It's the new Burnham's, said one observer." Although the authors push aside any comparisons with the classic Celestial Handbook, everyone who sees these two large books immediately mentions the late Robert Burnham's classic texts. Burnham's books, indispensible as they are, were very much products of their times. In the 1970's an 8" was a big telescope, and the Celestial Handbook was geared towards the 4"-8" telescope owner. During the late '70s and the '80s, the Dobsonian revolution brought larger aperture instruments to the average amateur. These new books address the large-aperture scope owner with more photographs, drawings, and descriptions than I've ever seen any- where else. The sheer numbers are impressive: 2,104 double stars, 2,030 galaxies, 127 planetary nebulae, 550 open clusters, 446 photographs, 827 drawings, 431 charts and 143 tables, 5,541 total objects. Most every object of interest is accompanied by a drawing or photograph, and each object is given a star rating (1 to 5 stars.)
In addition, the authors describe the view through various classes of instruments: 8"/10", 12"/14", etc. I have just reached the point in my observing "career" that just about every object I want to look at isn't described or photographed in Burnham's. These books have already helped me tremendously on my Herschel 400. I think even those who subscribed to The Observer's Guide will want these books, as the information has been updated and assembled in a coherent order. This is not a substitute for Burnham's; it's a companion. Burnham's tone is more philosophical, quoting sources as diverse as American poets, Japan- ese monks, and Wagner's Das Reingold to make his point about the wonder of the heavens above. The Night Sky Observer's Guide is "just the facts." Highly recommended for deep sky fans. I am still trying to digest these books; it may be some time before I am able to do so.
(1X Reflex Sight, 2 mounting plates, battery, $39.95)
The Telrad isn't the only one-power finder in town. From Rigel Systems (the same folks who bring you those cool rectagular flashlights) comes this well sorted reflex sight.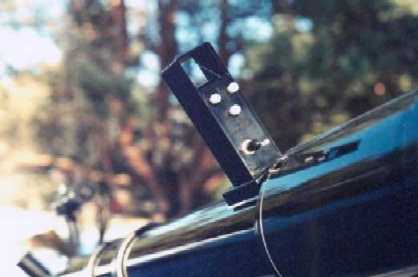 The unit differs from the Telrad -- it's smaller and thinner, and slightly easier to use with both eyes open. The unit projects a red bullseye at infinity and comes with a lithium battery that is said to last 250 hours or more. Also, there are three collimation screws, a hefty power switch, and a white knob that pulses the red bullseye. This unit was supplied as a review sample from Leon at Rigel Systems.
I used it on my Ranger, the 10" Meade Dob, and the C102HD. One of the neat things about these 1X finders is that you aren't limited to the tradition- al placement of "standard" finders. In fact, one of my favorite mounting locations was at the end of the C102HDs tube. As a local star party one night, I found I could "follow along" as the kids looked through the eyepiece without us getting in each others' way. Mounting is accomplished by boring a hole through one of the two supplied plates, or by using double-sided tape. The tall profile may require you to remove the Quik Finder for transport on larger scopes. This is a thoughtfully-designed product, and in fact I wound up buying the review sample. Recommended.
3) Meade 7 mm Research Grade Orthoscopic (7 mm orthoscopic eyepiece, NLA) These older (1980's) Meade orthos are highly sought-after in some circles. Meade applied the "Research Grade" moniker very rarely, and then only to its very best products (anyone else remember those wonderful Research Grade Reflectors?)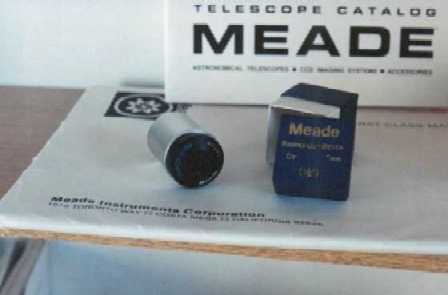 This particular ortho delivers sharp views across its field and is an excellent eyepiece. The only fault I could find was its short eye relief (forget about wearing your eyeglasses.) I briefly compared this 7 mm Meade to its modern counterpart, the University Optics 7 mm ortho. I could detect no difference between them other than the short eye relief on the Meade. The UO is heavier and more solid; the Meade is all aluminum and very light. Worth seeking out on the used market.
4) Canon 10X30 Image Stabilized Binoculars 4/99
(10X30 binoculars, 2 AA batteries required, $599 street)
Amazing binoculars. Internal motors compensate for any vibrations induced by hand movement. The end result is that you can see as much as, say, with 50 mm binoculars, because the image holds still.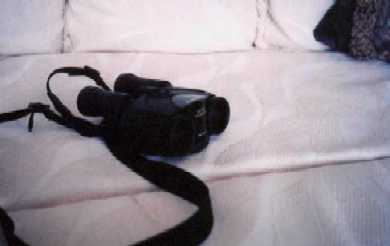 Oh what fun! Canon's miracle binoculars
The Image Stabilization system is activated by pressing a button near the focuser, so it's easy to compare how much better the views are once the system is turned on. I found myself playing games with these binos, trying to force them to "unstabilize." Even while trying to induce a motion, the binos would still deliver a steady image. I also tried holding them with one hand for a long time, letting my arm get tired. No dice -- the image remained rock steady. What's interesting is, while your hand/arm may be shaking, you can see - sort of - the edge of the FOV moving around, but the central image is still steady. Even though they're only 30 mm, I could still locate M81/M82, M65/M66, NGC2903, M51, and even a hint of M59 and M60. This was under pristine Arizona skies, but it does prove a point. A steady image delivered to both eyes compensates (at least somewhat) for lack of aperture. Although a pair of 12X36 IS binos were also on hand, I actually preferred the 10X30 units. They're lighter, and I didn't notice much difference in light gathering. Also, the 12X36 units cost almost twice as much. I haven't seen the 15X42 model. Drawbacks? They're heavy for their size. Also, the Image Stabilization system eats batteries. Drawing 300 mw to 600 mw, even alkaline batteries last only a few hours (forget about using Ni-Cads in cold weather.) Finally, they do cost $500+. Are they worth it? If you use binoculars a lot and have the money, don't buy anything without checking these out first. In a pinch, they could even serve as a substitute for a small travel telescope. Recommended.
5) TeleVue/ Vixen/ Meade 8-24 mm Zoom Eyepiece 5/99
(8-24 mm Zoom, $199 Vixen version, $219 TeleVue version)
At first glance, a zoom eyepiece would seem to be a great idea for space and money-strapped astronomers. Properly designed, a good zoom can substitute for several individual eyepieces. However, excellent zooms are a very rare animal, as it is almost impossible to optimize the zoom for sharpness across the entire focal length range (the "Jack of all Trades, Master of None" syndrome.) These units, made by Vixen and brand-labeled by TeleVue and Meade are the newest of the new "luxury" zoom eyepieces that are gaining in popularity these days. I bought one, mostly out of curiousity (mine is the "TeleVue" version.)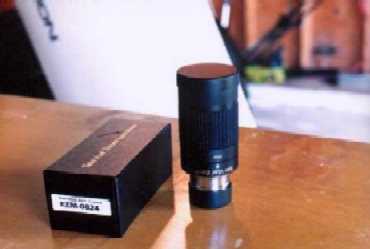 The focal length runs from 8 mm to 24 mm. The apparent field of view changes though, from an acceptable 60 degree FOV at 8 mm, to a drinking-straw-like 40 degree FOV at 24 mm. I won't waste a lot of space on this. This eyepiece is a disappointment. At no focal length did it present a challenge to any of the Plossls or Orthos I had on hand. At the 24 mm setting, the view is barely as sharp as a budget eyepiece like the Meade MA25. At 8 mm, it is fuzzy and ill- defined, not very pleasant at all. The eyepiece also generates some lateral color on bright objects. To make sure I wasn't just having a bad day, I handed the zoom to a friend to test, without telling him what I thought. His verdict? "It's not much to write home about, is it?" Approach with caution, and audition first before buying.
Update, 3/00: I get a lot of e-mail about this review. It runs about 50/50, Pro/Con. Strangely, there seems to be no middle ground. Owners either love this eyepiece, or they hate it. Having had a chance to view several more over the past year (including a second sample I bought for use at star parties) I can say that the QC on these seems to vary quite a bit. Some aren't so hot (like the sample above) but some aren't bad at all. My second sample is quite sharp across the field and I'll probably keep it. Based on my experience, the moral for these zooms is, look through the one you intend to purchase if at all possible.
Update, 4/02: I bought a third one recently and this one is the best of them all. The field is still a little narrow at the 24 mm end but it's sharp throughout the zoom range on my 4" and 6" Newtonians.
6) Absolute Astronomy's Filter/Eyepiece Cases 5/99
"People pay $100, $200 for an expensive filter, and then they put 'em back into these cheap cases!" Bill Falcone pounded his fist on the table in front of me at this year's (1999) NEAF in Suffern. Now, I admire a guy with passion, even if it "only" concerns the plastic cases for your filters and eyepieces.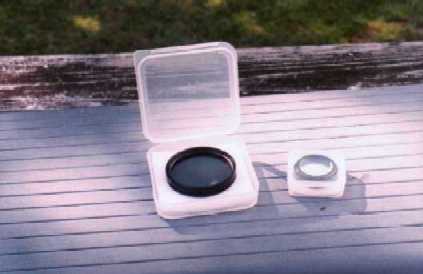 Made of a softer, "Tupperware" like material, these do seem to be better than the hard plastic cases that usually get shipped with your filters. You can buy these at Absolute Astronomy's Web Site. Also, if you're looking for replacements for those nice poly threaded bottles that Meade uses for their Series 4000 eyepieces, they're available here as well.
7) Takahashi 6X30 finder 6/17/99 ($120 for finder body, $39 for bracket) Finders are like good barbecued ribs these days -- Exceptional samples of both are becoming harder to find. When people ask me to recommend a good 8X50 finder for their telescopes, I often direct them to this 6X30 unit from Takahashi instead. It's expensive, but worth every penny.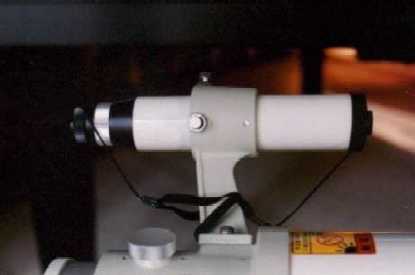 Finders from the big companies seem to be getting cheaper and less useful these days. Edge sharpness and good coatings are becoming a distant memory. This Takahashi unit is sharp right out to the edge, and its coatings are excellent. The eyepiece has a generous field of view, and is held on via a compression ring - a nice touch. What's more, the view is almost as bright as any of my 8X50 finders. Finally, at 9.5 ozs, it weighs less than most 8X50 units, and will be less likely to cause balance problems on Dobsonians. By the way, the photo illustrates one of my favorite cheap fixes -- cap keepers for lens caps. Tired of losing your finder's lens caps in the grass? For about $4, you can end this. I have them on all of my telescope's finders now. They're available at most better-stocked photo supply stores.
8) Takahashi Teegul (Large) Alt Az Mount 7/18/99
(Mount, Slik Tripod, about $800 street)
Yes, it's the Teegul -- that funny-looking Alt-Az mount from Takahashi with the funny-sounding name. However, you won't be laughing when you experience the outstanding performance of this unit.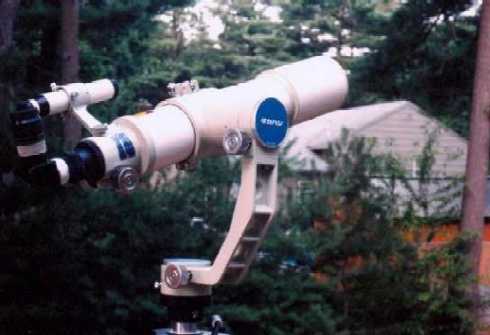 The Teegul, with an FC76 aboard
Like many good ideas, the Teegul's is a simple one: A single sided cast iron swingarm (painted "cool-man-cool" Takahashi lime green) with exceptionally smooth left/right and up/down motions is bolted on top of a heavy duty Slik tripod. "Large" and "Small" versions are available. The mount is incredibly rigid and stiff, especially given its light weight. The mount is easily picked up with one hand. It's much lighter than a Gibraltar, but is just as rigid, an unusual combination. To track, you turn the knobs on the Altitude and Azimuth axes. These knobs, by the way, are the same ones used by Tak- ahashi on their focusers, and are just as silky smooth. There are small tension adjusters on each axis. There is also an offset plate that allows you to point your scope at the zenith. However, the plate supplied with this Teegul had incorrectly tapped holes. A replacement is being sent out. The Teegul may not work well with non-Takahashi scopes. The plate is designed to mate with Tak tube rings, which have metric hardware and a weird, circular footprint. However, I think anyone who owns one of the smaller Tak refractors (the FC50 through the FS102, say) should seriously consider ordering one of these, for casual visual work.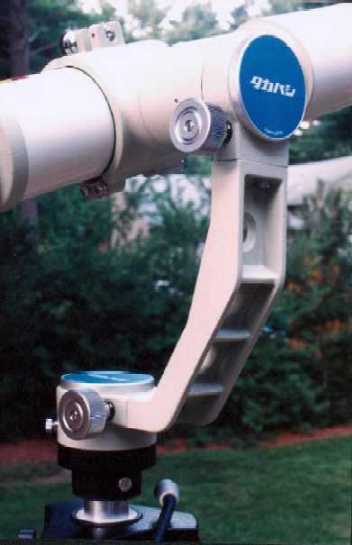 Teegul Close-Up
It's expensive. But, any Takahashi owner already knows what it's like to spend a serious chunk of change on a telescope. To me, spending a little more to make it work well is not that big a stretch.
9) Orion 16X80 binoculars 11/8/99 (16X80 giant binos, straps, case, tripod adapter, $379) A nice pair of 80 mm binoculars. They're sold through Orion and are reasonably priced. The included tripod adapter works on my Bogen 3001/ 3030 setup, but for best results you should use a parallelogram-style mounting like the Virgo unit.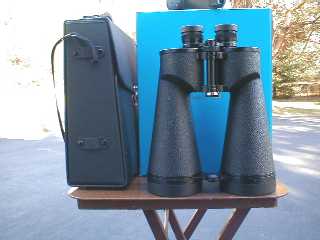 A Good Intro Into Giant-Bino Land: Orion's budget priced 16X80
On-axis sharpness is good, and the coatings are nice and dark. Eye relief is also generous. As you approach the edges of the field of view, there is some contrast loss and some curved star trails, nothing serious unless you are a real stickler for this type of thing. If you've been using a pair of 7X50 binoculars and want to move up, these Orion units are a good introduction into giant-bino land. Recommended.
10) Fujinon 10X70 binoculars 11/8/99 (10X70 binoculars, straps, case, about $600 street) It is said that there is no such thing as an unhappy Fujinon owner. Based on these, I'd say they have a point. It's almost like having a pair of TeleVue Rangers, one for each eye. I like the Orion 16X80 units (above) but these are in another league altogether. Sharpness is superb, contrast is wonderful. What's more, there is virtually no degradation of the image as you approach the field stop.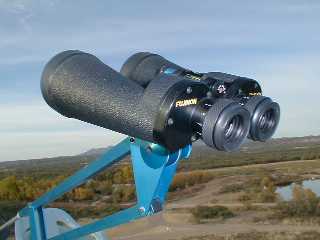 Fujinon's Lusty 10X70 Binoculars
The barrels are nitrogen-filled to reduce fogging and dewing. Each eye focuses individually. Although they're only 10 power, don't even think of hand holding them. Like all Fujinon binoculars, these are large and heavy. Treat 'em right. While in Arizona, I used these for a few hours instead of a telescope. NGC891 showed up, as did NGC253/NGC288. M33 showed spiral arms. The Double Cluster was breathtaking. Most binoculars, even the giant ones, are little more than expensive toys. These 10X70 units are serious astronomical instruments and should be treated as such. I'm contemplating a purchase myself. Enthusiastically recommended.
11) Leitz 30 mm eyepiece 11/8/99 (30 mm 88 degree FOV eyepiece, about $1400-$1600 street) Every discussion I've ever had concerning this eyepiece eventually gets down to its eye-popping price. I'm not sure anyone needs a $1500 eyepiece, no matter how good it is. But that raises a valid question: Just how good is this eyepiece, anyway?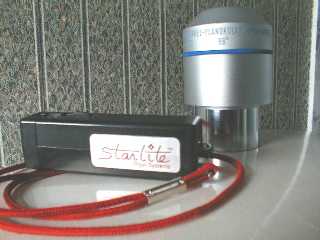 It Costs HOW Much? Leitz's 30 mm Eyepiece
The truth? OK, it's pretty darned good. We compared it to the new 31 mm Nagler ($600) in the 11" EL Starmaster. We all thought the Leitz was sharper and contrastier on axis, almost delectably so. However, the Nagler maintains its sharpness all the way out to the field stop. At one-third the price, the Nagler seems to hold its own. The Leitz is gorgeously-made, huge and heavy. The brushed alum- inum finish invites you to touch it. You already know if you want this. Besides, it'll look great on the dashboard of your Jaguar!
12) Siebert 12.5 mm and 32 mm eyepieces 12/6/99
(12.5 mm Kellner, $40, 32 mm 6 element, $79)
Available directly from Harry Siebert "They look just like the Rinis," said one observer. Made by Harry Siebert in NC, these budget eyepieces offer very good performance for the price. Siebert makes several eyepieces in .965" 1.25" and 2" sizes, from 9 mm all the way up to 51 mm. Your purchase come with a 30-day money back guarantee.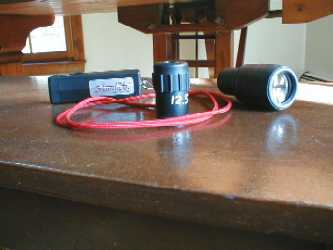 Siebert's 12.5 mm (L) and 32 mm (R) Eyepieces
One night, during a long observing session, I performed an unscientific experiment. I added these eyepieces to the observing table without telling anyone and let them circulate amongst us. All through the night, no one said anything, which is usually a good sign. The 12.5 mm has some tight eye relief, and the 32 mm gets a little mushy towards the field stop, but that's about it for the complaints. For those seeking budget eyepieces, but want performance that's a little better than the Rinis (and are willing to pay a little extra to get it) these Siebert units are a good choice.
Update, 1/00: Harry also sent me a couple of his 6X50 finders: The straight through model is $99 ($159 illuminated) while the 90 degree unit is $129 ($169 illuminated.) Looking like modified rifle scopes, they have sharp optics and a smooth, metal drawtube for focusing. You might need extra long bolts to fit them into a standard 8X50 finder bracket. I expressed a couple of concerns to Harry about the 8.3 mm exit pupil and the price. Harry reports that later units will have a higher magnification. As for the price, you can get a super-sharp 6X30 Takahashi for about $125, and the superb illuminated 8X50 Astro-Physics finder is only $175. However, Harry defends the prices (although he just lowered them a bit) and tells me people are buying his finders. So I guess I'm outvoted.
End Various Eyepiece Review, Page 4
---
Return to Home Page
---