Telescope Reviews
Page 11

Updated 5/20/10
---
Click on a Telescope Below:

4) Orion XT8 8" f/6 Dobsonian Reflector

5) Skywatcher 4" f/5 achromat (Celestron 4" f/5)

7) Orion VX120GP "Neo-Achromat" (Vixen VX120)
---
1) Sovietski 6" f/8 Reflector 3/10/00 (6" f/8 equatorial Newtonian, AC RA drive, 42 mm, 25 mm, 15 mm, 4X barlow $649 + $75 shipping) (Now sold by Talscopes as TAL-2)
I am just old enough to remember when being an "amateur astronomer" meant that you owned a 6" reflector. Twenty or thirty years ago, it was all you could get - a far cry from today. Nowadays, it seems like nobody makes them anymore.
Imported from Russia by Mitch Siegler, Sovietski sells Russian optical equipment, along with lots of other pieces of Russian memorabilia (ask for their catalog.) I remember my first encounter with a Sovietski tele- scope at a star party. Two things stuck me: First, the scope produced some really nice images, and secondly, it seemed to take the owner for- ever to set it up.
And so it was that I found myself going through those same experiences. This telescope was supplied as a review sample from Sovietski. The scope arrived in two huge -and I do mean huge- shipping containers. I found myself pondering how it was possible for a scope weighing 68 lbs to have a shipping weight of 166 lbs. Yes, the containers for this 6" scope weigh MORE than the 20" Obsession they were sitting next to.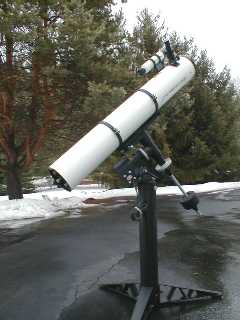 You get a lot for your $650. The tube and most of the mount come neatly packed away in a massive 91 lb dovetailed pine box resembling a coffin. The equatorial head comes in a second, smaller pine box. The designers of this telescope must have lived by the motto "A place for everything, and everything in its place" because there seems to be a little alcove, or wooden holder for each part of the scope. In fact, I had some difficulty remembering where everything went when it came time to repack and return the scope.
As I hinted above, it takes a while to put all this stuff together. However, unpacking and assembling a telescope for the first time ranks as one of Life's Great Pleasures, and I didn't mind. The parts of the scope are large, beefy, and heavy. Some parts, like the threads on certain bolts, come conveniently lubricated. Unfortunately, other parts, like the declination shaft and most of the finder bracket, are not only lubricated, they arrived positively slathered in grease. I had to run inside a number of times during assembly to wash my hands.
Once assembled, I moved the scope outdoors on a cool, crisp night. The scope is nicely finished, and is in sharp contrast to the military-looking cosmetics on most other scopes from the former Soviet Union. The scope is -dare I say it- even attractive, something I never thought I'd say about a Russian telescope. This Sovietski is the first Russian scope I've ever seen that didn't look as if it were getting ready to shoot something. The primary is spherical. Despite this, it shows really nice images. I did a mini Messier tour through the winter sky and hit the Virgo Cluster. The scope's images were clear and contrasty. The 8X50 finder is wonderfully sharp, almost to the edge. In an age when most of the major manufacturers are trying to put the cheapest possible finders on their scopes, this was refreshing. Of the eyepieces, I liked the 25 mm Plossl the best. The supplied 4X barlow is also of good quality. The 42 mm Kellner had a too- narrow FOV, and the 15 mm Kellner was too tight on eye relief.
A spherical mirror is an undercorrected mirror, and this showed up in the star test at 150X, which revealed about 1/4 wave of spherical aberration. I didn't notice much, if any, degradation of the image because of this. It wouldn't be a true Russian telescope without a few quirks, so here they are. You practically have to disassemble everything to put the pieces back into those pine boxes. The drive is AC only. There is no lens cap for the finderscope. The rings look like they will fit on any mount, but they won't - they're keyed to the plate on the supplied mount. The mount's controls are a little clunky. Finally, the instructions are like a long Russian winter: grey, and a little dreary.
I enjoyed my time with this telescope. Although it's only 11 lbs heavier than the Meade Starfinder, it feels far more substantial and solid. The Meade, in fact, feels positively dainty next to this Sovietski, with its plastic focuser and finder, paper tube, etc. But the Meade costs a lot less, at $499. So take your choice, as they're both recommended. In a time of Goto-this and Apochromatic-that, is was nice to spend a few nights enjoying a simple, traditional 6" f/8 Newtonian. I can tell you that I seriously considered buying the review sample, but in the end I could not justify yet another telescope in the garage. It went back to Sovietski without me.
2) Takahashi FC60 3/10/00 (60 mm f/8 doublet fluorite apochromatic refractor, OTA only, about $800) This is a fanatic's telescope. I mean, who else but the crazy Japanese (and perhaps an errant German engineer or two) would lavish this kind of attention on a lowly 60 mm refractor? This sample of the FC60 showed nearly perfect optics and no false color.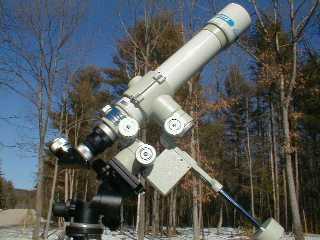 Another Tiny Marvel From Takahashi The FC60 (Mount: Tak Sky Patrol II)

The FC60 is pretty much the same scope as the FC50. The tube, dew shield, focuser, etc are all the same, except the FC60 is about 4 inches longer. The photo above does not do justice to how small the scope is. You can hold this whole above assembly in the palm of your hand. Very cute. I ran a quick test between this FC60 and my newly-acquired TeleVue Pronto. At lower powers, there was virtually no difference; both scopes looked won- derful. Both will show you virtually all of the Messier objects, and will look great on the planets. However, as I pushed the powers up, the FC60 seemed to hold up better. Around 150X, the Pronto starts to break down. The Tak is like the Energizer Bunny. The images start getting dim at high power, but it just keeps going, and going... It's expensive, and your ~$800 buys only the optical tube. You still need to buy the 5X24 finder (do not use the Tak 6X30 finder, it looks like it fits but it does not) diagonal, tube ring, and a way to mount it.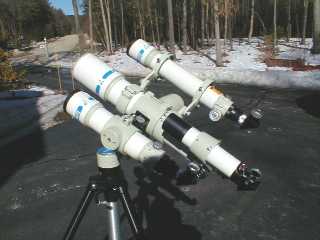 Got Enough Scopes? (l to r) Tak FC50, FC76, and FC60 on a Teegul
Highly recommended for larger collections, and for those seeking absolute performance in the tiniest possible package. ...and for fanatics.
3) TeleVue Pronto 3/24/00 (70 mm f/6.8 doublet semi-apochromat, 20 mm Plossl, 1.25" or 2" diagonal, case, about $950-$1100 street depending on options) (Note: See Related Article)
"Everyone should own a Pronto."
I was having lunch and discussing telescopes - which happen to be two of my favorite pastimes - with a fellow club member, when he sprang this pearl of wisdom upon me. I mulled this over.
Hmm...why?
"Well, it's light, fast to set up, versatile, it travels well, and its optics won't embarrass you. It's a perfect second telescope."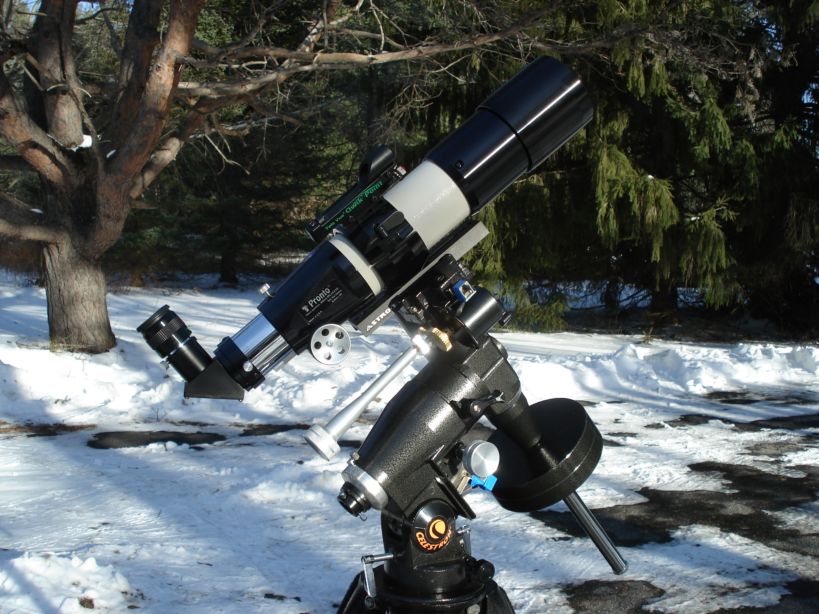 Should everyone own one? The TeleVue Pronto
He might have a point. The Pronto is the same scope as the TeleVue Ranger, which has commented upon extensively already in these pages. I won't go into much more detail here. The Pronto adds true 2" capability (and a 2" diagonal if you want it) a beefier tube ring, a rack and pinion focuser, a sliding dew shield, and a nice case, compared to the Ranger. You pay for all this, of course, in cost and in weight. A Pronto costs 35%-50% more than a Ranger, and at 6 lbs, weighs almost twice as much. Keep in mind, the optics are the same for both scopes.
As luck would have it, I got word of a used Pronto around the time of the above-mentioned lunch. As I have been meaning to upgrade my Ranger for some time, and as I seem to have some sort of genetic weakness for nice, small refractors, I wound up buying it after a short talk with its owner (I sold the Ranger and some eyepieces to pay for it.)
Mine has very good optics. It has a little false color around bright objects like Jupiter, and is undercorrected by about 1/4 wave, no big deal. It holds up well up to around 125X. Sweeping at low power with a 27 mm Panoptic is a lot of fun. The Pronto works well on TeleVue's Panoramic ($450) or Telepod ($325) mounts, or you can just buy the Telepod head ($200) and mount the assembly on a photo tripod. You can also use the scope on a heavy tripod and head combo, like the Bogen 3001/3030 rig you see in the photo. Avoid Bogen's fluid-damped heads -- they look strong, but tend to creep, even when locked down. The 3030 is a little light for a 6 lb+ load, and I intend to get a bigger head.
"You already have a big head," said a club member.
"Gets bigger every day," I replied.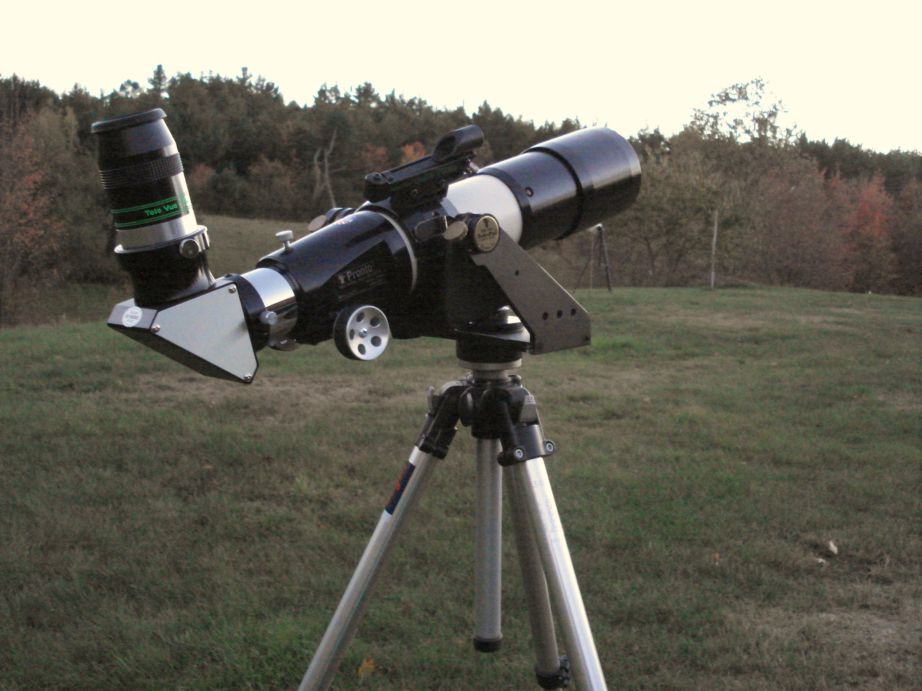 So, does everyone really need a Pronto? Hard to say. I like mine a lot. TeleVue may be a victim of its own fine products, though. They popularized good optics a few years back, and while the Pronto's optics are still very good, the scope is starting to show its age. Other manufacturers have since raised the bar, and there might be a little resistance to pay $1100 for a semi-apo when there are FC76s and FS78s floating around the used market for about the same price. TeleVue's own TV85 is also a far more substantial and serious scope, but costs around $800 more.
Still, I recommend these, especially for observers who already own larger telescopes. Older versions are f/6.4, have a lighter-duty focuser, no hole drilled in the tube ring for a Quik Point, and are not quite as desirable as a result. The newest ones have green tubes (ivory is still available upon request) and you can take your choice between 1.25" and 2" diagonals. On the used market, Prontos in good condition run about $750-$850.
4) Orion XT8 8" f/6 Dobsonian Reflector 3/31/00
(25 mm, 9 mm Sirius Plossls, 6X30 finder, $499+$49 shipping)
These Orion XTs are now my favorite entry-level Dobsonians. This one is the 8" version, but my comments are applicable to the 6" f/8 model as well. The scopes are extremely well thought out, with sturdy bases, rigid feet, metal tubes, solid and functional focusers and finders, good looks, and an innovative spring-tension system that ensures your scope is always balanced. The springs also allow one hardy and ambitious individual to pick up and move the scope with one hand (the 6" weighs 37 lbs, while the 8" weighs 42 lbs.)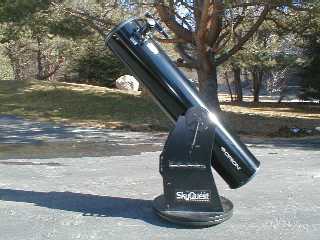 The Best Beginner's Scope? Orion's Nifty XT8 Dobsonian
I used this unit, which belongs to a fellow club member, over a few nights. This one has slightly undercorrected optics, not a big problem. The views are nice and sharp, and the scope is relatively easy to collimate. The XT8 is very user friendly, and I think it's a great telescope for people who just want to observe, and not worry about their equipment. The finder is sharp, and the supplied Sirius Plossls are of good quality.
The scope has a sure and solid feel to it. There are no flimsy parts anywhere; it's built to last. And unlike some other entry-level Dobs from other manufacturers, the XT series isn't seen as a low level stepping stone to more expensive products. It's an end in its own right, and could keep its owner happy for years, possibly even forever.
I can't find much to criticize. The mirror isn't Pyrex, but during the cool March nights I had it, I noticed no cool-down issues. Also, the eyepiece caddy looks neat, but unless you live in an ultra dry climate like the Arizona desert, the caddy will only ensure that all of your eyepieces dew up at the same time. The focuser is a high-profile type, and its drawtube protrudes into the optical path when racked in. Finally, the focuser is mounted on the left hand side of the scope, which is a little unusual. These complaints are all minor. The Orion XT8 is very highly recommended. In fact, I can't think of a better way to spend $500 on a new telescope today. Put 100,000 of these in the hands of prospective department store telescope buyers and the world would be a better place. Well done, Orion!
5) Skywatcher 4" f/5 achromat 5/15/00 (102 mm f/5 doublet achromat, 6X30 finder, 25 mm eyepiece, diagonal) ($290 OTA street, $425 with Alt-Az mount street)
Here's the latest example of the Chinese-sourced achromats appearing on the market. While I've found the longer f/ ratio scopes of this genre (The C102HD, the CR150, Orion's Skywatcher 120) to be good performers and enticing values, the shorter models (the Orion Short Tubes, etc) while very low in cost, often leave something to be desired, performance-wise.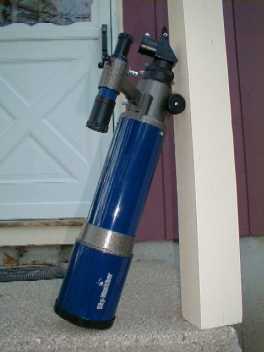 The 4" f/5 Skywatcher
This scope is in the latter category. This one is moderately overcorrected, around 1/2 to 3/4 wave's worth. There's some false centering on the lenses, and some astigmatism. Objects brighter than about third magnitude throw up false color; this is not a scope for looking at the full moon.
This scope, and the Orion 90 mm and 80 mm Short Tubes are all in the same series - they're like the "Greg" "Peter" and "Bobby" of the inexpensive short tube refractor world. (Interestingly, the larger scopes - the Celestron CR150, the Orion Skywatcher 120, and the Celestron C102HD are Greg, Peter, and Bobby of the larger Chinese refractors. Have I wasted enough of your time yet?)
My friend Mike has a method for dealing with misaligned lenses on these cheap achromats. Loosen the lens cell, and, with the scope pointing straight up, gently pat the sides of the tube by drumming your fingers. The lenses will settle (industrial vibratory feeders work off the same principle.) Star test again. If it still doesn't look good, repeat the process. This might take you all afternoon, but you'll eventually wind up with an acceptable configuration.
Even after this, the scope doesn't hold up over 75X or so. Castor and Izar are split, but not cleanly - there's a white spray of light in the gap between the components. Above 120X or so, you might as well forget it. I'd be tempted to chalk up these mediocre results to a bad sample, but the scope's performance is right in line with the other Chinese short tube refractors I've seen lately.
However, if you keep the powers low, the little Skywatcher can be a lot of fun for casual deep-sky sweeping. M81 and M82 are nicely framed, as are M65/M66/NGC3628. There were no planets handy for viewing. The focuser is smooth, the finder is sharp, and the finder bracket has the innovative "sprung" third bolt that more manufacturers should copy. The diagonal is of OK quality and the lenses have deep, dark green multi- coatings. There are no adjustments on the lens cell. Used within its limits (a quick peek scope, a star party scope, a giant finder, a telescope for those on an absolute minimum budget) it'll do the job. Considering the low cost, it seems a bit unsportsmanlike to do all this complaining. For casual use, it's worth the asking price. Just be aware, though, ambitious beginners and discriminating observers might get bored with it quickly.
Update, 6/15/00: Celestron is now selling this telescope under their name. It's the same optical tube, but has a 1/4" X 20 mounting block instead of rings, and no finder. The price is about the same as the Skywatcher version.
6) Carton 4" f/13 achromat 5/15/00 (4" f/13 doublet achromat, 6X30 finder, NLA, about $600-$750 on the used market)
I'll throw up some brief comments on this in case someone out there runs across one of these on the used market. Made in the 1970s and 1980s, these older Japanese-sourced achromats sometimes show up at swap tables, on Astromart, etc.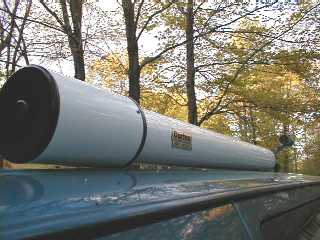 The 4" f/13 Carton

This sample has outstanding optics. Two of us detected only slight (below 1/4 wave) overcorrection, and the longish f/13 focal ratio keeps the false color at bay. The lens cell has push-pull adjustments, which allows precise collimation. The 1.25" focuser is beefy and incredibly smooth - it's one of the best I've ever seen on any telescope (do the Japanese know how to make focusers, or what?!)

The Carton notched .9 arc-second Eta Corona, which is well below the 1.1 arc second theoretical limit for a 4" telescope. Porrima, Izar, and Xi Ursa Major all proved easy fodder for it, and I cannot wait to look at Saturn when it comes around again. Even at 500X, the scope's airy discs are tight, round little balls with a dim first diffraction ring. This is the way stars are supposed to look, and we don't see it often enough.

The Carton is so good, I dragged out an Astro-Physics Traveler for comparison. The Traveler's optics feature far better color correction, and its modern multi-coatings throw up a brighter image (the Carton's lenses are coated in what looks like a single layer of MgFl) but in terms of contrast and sharpness, there was little to distinguish the two scopes. The finder is sharp, and its bracket has the sprung third leg. I'm also aware of an f/10 version of this scope. For fans of "old fashioned" long focal ratio refractors, these Cartons are highly recommended and well worth seeking out on the used market.

7) Orion VX120GP "Neo Achromat" 6/15/00 (4.7" f/6.7 four-element refractor, 7X50 finder, GP mount, diagonal, 20 mm Lanthanum, $2195 + $84.64 shipping, OTA only $1449 + $49.90) (No photo available)

The VX120 uses a Petzval-like design popularized by TeleVue in their Genesis and TV101 models. In this case, a 120 mm, long-focus (f/ratio not specified) doublet sits up front, and a rear doublet brings the optical train down to f/6.7. Thus, the scope is much larger and heavier (about 20 lbs) than you might think, given its specs.

Made by Vixen, these curious telescopes have been available for years through Orion, and though everyone seems interested in it, no one wants to be first to take the plunge (I understand they are popular in Japan, however.) Luckily, a local club member bought one, and I had a chance to check it out one night.

The sample I saw had very well-corrected optics. Spherical aberration was 1/4 wave or better, with no astigmatism or false-centering, and a very smooth figure on the star test. This is no mean feat, considering the complexity of the design. A quick tour through the summer Messier objects revealed sharp and contrasty images. The GP mount is good, but I'd suggest a GP-DX or a Losmandy GM8 for high-power enthusiasts. The 7X50 finder is impressive. The supplied 20 mm Lanthanum is also of good quality. The visual back comes as 1.25" only, but you can buy a 2" adapter for $36.50.

There is only one problem with the performance of the VX120, and you can guess what it is. Objects brighter than about 2nd magnitude threw up a glaring secondary spectrum. Looking at Vega at high power, much of the field of view is purple-colored. What's more, the hue of purple is quite bright, leaning towards neon-blue, and it immediately calls attention to itself.

These Petzval-like scopes are supposed to mitigate false color. On the Genesis and TV101, there is a fluorite element in the rear pair. The glass types on the VX120 are unspecified. We're playing with semantics here, but in my book, this is not a semi-apo. It's an achromat. A sharp, well-built, well-corrected achromat, but an achromat nonetheless.

As a baseline, the false color is about at the same level as a C102HD, but not as bad as on the CR150, which were nearby for comparison. The VX120 is noticeably sharper than either the C102HD and the CR150, however. Whether this scope is for you or not will hinge on your tolerance for false color. One experienced observer present said he liked the VX120 a lot, and declared it worth the asking price. I'm on the fence. At $1500 complete (not just the OTA) it'd be a shoo-in for a recommendation. However, when you spend $2200 for a refractor, I think you have the right to expect something close to color-free performance. But I cannot argue with the sharpness of this telescope. When the planets come back later this year (2000) I'll try and get a look again through this scope. Until then, this one gets a mild thumbs-up, provided the prospective owner is aware of the false color issue, and doesn't mind spending the money.

End Telescope Reviews, Page 11
---