Celestron C102HD Refractor
---
1) Meade Starfinder Equatorial 6" Reflector (6" f/8 Newtonian, DC RA drive, 6X30 finder, 25 mm MA, $650+$65 shipping) (No Longer Available)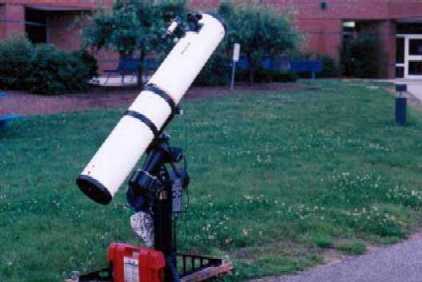 A 6" Starfinder, tricked out with a Magellan II computer, heavy-duty battery pack, and wheeley bars.
A competent performer, and an excellent starter scope. Comparing this to my own, 20 year old Meade 6" reflector, it's amazing how little they've changed over the years. The optics on the sample I saw were very good. I also like the giant, "sideways" RA scale for those who use setting circles. The finder is serviceable, and the Sonotube cools quickly and evenly. You'll want to replace the mounting rings (they're actually a pair of tightly clamped metal straps) at the earliest opportunity. I have only one complaint, and it is somewhat serious: the focuser. How Meade could spec such a cheap part on an otherwise well-built scope is beyond me. Not only is it made out of plastic, but it's the cheesiest, cheapest, thinnest plastic you can imagine. Even lightly banging the focuser against the wall (i.e., when moving the OTA outdoors) will shatter it to pieces. And if you allow the tube to roll around in the back of your car, it will eventually come to rest on the focuser, knocking it out of alignment. The drawtube on the unit above has 1/8" to 1/4" play in any direction. Budget another $50-$75 for a decent focuser.
No one seems to make 6" f/8 Newtonians any more, and that's a shame. Amateur astronomers have eschewed them recently, preferring the convenience of Schmidt-Cassegrains, the tack-sharp images of modern apochromatic refractors, or light-gathering capabilities of the new-generation Dobsonians. That doesn't mean that there still isn't a place for a good, old-fashioned Newtonian, like this one. If you're new to astronomy, any of the Starfinders could keep you busy for years. Recommended. Just get rid of that focuser.
Update, 4/00: Meade recently dropped the price of this telescope to $499 + $65 shipping.
2) Celestron C6 (Brief Impression) (6" f/5 Newtonian, 6X30 finder, Polaris mount, 18 mm Ortho, $899, NLA)
Looking like a "fatter" C4.5, these older 6" rich-field scopes are worth a look on the used market. The optics on the unit I saw were very well corrected for an f/5 system. I saw very little spherical aberration, but I did notice a trace of astigmatism. On 25 mm eyepieces (and longer, presumably), coma started to creep in near the edges. In fact, while watching the field near the Ring Nebula, I watched stars drift through the field. As they approached the edge of the FOV, the tiny points of light would spread out into little curves. It's a fun scope for deep-sky sweeps.
Celestron didn't seem to sell very many of these, and for the reason, you have to look at the price. For comparison, the new Starsplitter 6" f/5 sells for about $530. The older Meade 6600 and 645 models were also much less, and are worth seeking out. A convenient scope. It doesn't "feel" like a 6" when you're moving it around; it feels smaller (that's supposed to be a compliment.) The Polaris mount is a known quantity and is more than suitable for the job. It may also come in handy for some of your other OTAs. Recommended, provided you get one at a decent price.
3) Meade Starfinder 10" Dobsonian (10" f/4.5 Dobsonian reflector, 5X24 finder, 25 mm MA, $599+$69 shipping) (No Longer Available)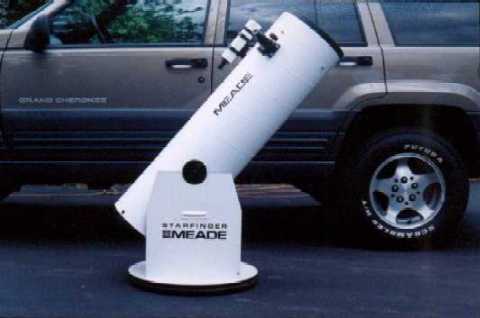 Overlooked and underrated, the 10" Starfinder Dob makes an excellent observing partner
A sleeper. Excellent value in a mid-aperture Dobsonian. It's only $50 more than the 10.1" Coulter, but has a pyrex mirror, finder, rack-and-pinion focuser, a better eyepiece, and superior fit and finish. In the spirit of cheap Dobs, the Starfinder feels more like a work in progress than a completed telescope. Just looking at it, sitting in my living room, I can think of a half-dozen or so things I could do to change it. The finder and focuser are made of incredibly cheap plastic, and should be put out of their misery at the earliest opportunity. The bearings need improving, and the feet should be replaced.
If you order one, have a drill and some hand tools ready; you may have to correct some of Meade's drilling errors, as I had to. Also, the scope is difficult to collimate, as the secondary is somewhat undersized (this lead one cynical observer to refer to the scope as the "9.5-inch Starfinder.") The OTA looks identical to the equatorial version, but the mirror cell is made of particle board instead of metal. The Sonotube is drilled to accept the other Meade finders. I installed my spare 8X50 unit. While it works well, it makes the tube front heavy, and I have had to rig a counterweight system using Velcro and modeling clay. The star test was actually pretty good, with very little spherical aberration in the center of the FOV. At the edges, however, coma and astigmatism creep in. Using Nagler and Panoptic-type eyepieces helps to tighten up the image near the edges. Use them if you have them.
The cheap mirror cell sometimes "sticks" when you're collimating it, requiring you to remove it, "unstick" it, and re-assemble it. Not my idea of fun in the dark. Fortunately, the scope holds its collimation reasonably well, even during frequent transport. Also, the short 45" tube means you'll be stooping over and kneeling a lot. Get yourself a chair and save your back. And the jury's still out on the long-term durability of the Sonotube. Other than the above concerns, the 10" Starfinder performs far better than I had a right to expect. It has generous aperture, good optics, it's easy to transport, it's fun to use, and it's cheap enough that I don't worry about it all the time. Its short, stubby profile even exudes a dash of personality. A bargain and a keeper.
Update, 4/00: Meade recently reduced the price of this telescope to $449, + $69 shipping.
4) TeleVue 85 (85 mm f/7 ED doublet, 2" diagonal, 20 mm TV Plossl, about $1850 street)
I spent about 2 hours with one of these under good, clear skies, with the moon at first quarter. At first glance, it's easily mistaken for one of the new, green- tubed Prontos, but it's just a little longer, and weighs about 8 lbs, to the Pronto's 6.6. It comes in a Pronto-like soft carrying case.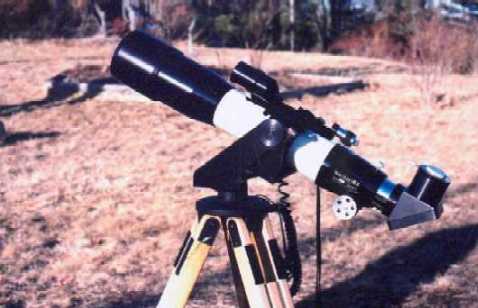 Genesis-Lite? the TeleVue 85
The star test was nearly perfect, with just a trace of undercorrection. I noticed no false color on the limb of the moon. With a 7 mm Nagler, it easily splits the double-double and Epsilon Bootes. With a 35 mm Panoptic and a 2" O-III filter, all sections of the Veil are possible. I wound up looking at a lot of the summer Messier objects, as well -- the views were unfailingly crisp and refractor-like. The TeleVue 85 was set up beside my Takahashi FS102, and an older TeleVue Oracle was not far away. Comparisons were interesting, but there were no surprises. The Oracle and 85 both showed the same freedom from color, although the 85 went a little "deeper", due to its slightly larger aperture.
Both the Oracle and TV 85 are a good leap ahead of the Ranger/Pronto series. However, the FS102 is still a step ahead of the 85 in terms of light-gathering ability and perhaps sharpness as well (I felt the same way at Stellafane, comparing an 85 to a nearby Traveler.) However, a comparably equipped FS102 will run you about $2800, and the Traveler would ring the till at around $2600, once you add the 2" diagonal. Viewed in this manner, the 85 is almost a bargain (if $1850 for a 3.35" scope can ever be called a "bargain!") In short, the TV85 is a marvelous portable, wide-field, refractor. If I didn't already own 60 mm, 70 mm, 80 mm, and 102 mm refractors, I'd probably buy one.
5) TeleVue Bizarro (Brief Impression) (85 mm f/7 ED doublet, similar to TeleVue 85, above, with built-in binoviewer)
Leave it up to Al Nagler to come up with something like this. Take an innocent TeleVue 85, chop off the last five inches from the eyepiece end, add TeleVue's excellent binoviewer, and what you get is a "Bizarro." Most telescopes cannot accommodate the use of a binoviewer without the use of a barlow. Nagler circumvents this by cutting off the end of a TeleVue 85, just enough so the attached binoviewer can be used without the need for a FOV- robbing barlow lens. In switching back and forth between the 85 and the Bizarro, I found it hard to notice any light loss through the Bizarro, although I know it's there. The views through this scope on deep sky are breathtaking; images take on a 3-D quality that's simply hard to describe. On the Double Cluster and on M31, for example, I was convinced that these now-familiar objects were floating in space, in front of a backdrop of pinpoint stars. At Stellafane, deep-sky through the Bizarro, along with the Veil through a 2" OIII- equipped Traveler, provided my most memorable views this year. Wonderful scope. Very pricey (about $2600.)
6) TeleVue Genesis SDF (101 mm f/5.4 refractor, 20 mm Plossl, 2" diagonal, case, was $2299, NLA)
These popular refractors throw up an impressively bright, wide-field view. The design is a hybrid, and involves more optical sleight-of-hand from Al Nagler. The doublet objective lens operates at f/12. Near the eyepiece lies a second doublet, which brings the optical train down to f/5.4. The second doublet uses a fluorite element, which is said to reduce chromatic aberration to nearly imperceptible levels. The scope is very well-built, almost overbuilt.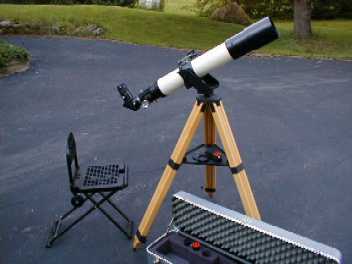 As a result of the design, the Genesis is a lot larger and heavier than a conventional 101 mm f/5.4 telescope. It weighs 11 lbs, and is as large as my FS102. It's almost twice as large as a Traveler, even though it has a shorter focal length. The sample I saw was slightly undercorrected, and had almost no false color. Stars at high power had that round-ball-on-black-velvet look that is the hallmark of any high quality refractor. The wide field is really stunning on the right objects. The entire Veil can be seen at once. M31 and its surrounding field looks great with a low power 2" eyepiece.
I spent an evening comparing a Gibraltar-mounted Genesis with the FS102 and an A-P Star 12ED. Jupiter came up, and we watched a double transit for nearly an hour. With such a short focal length, you wind up using barlows and tiny eyepieces to boost the magnification, which gets a bit uncomfortable. I don't think it's a coincidence that many Genesis owners have 2.5 mm Lanthanums in their eyepiece cases. Apparently, all this glass doesn't bother the Genesis. With the new 5X barlow, and a Nagler Type II in place, you'd have 4+4+8=16 elements in the optical path. Owners tell me there's no breakdown in image quality. The Genesis held its own against the AP and the Tak. I did think the Genesis was a tad less sharp, but this was not immediately obvious unless you did a direct A/B comparison. The Gibraltar mount is quite smooth, although it won't point at the zenith (guess where Murphy's Law usually places the object you want to view?) I will confess, I love TeleVue's Genesis, and have wanted one ever since I first saw an ad for one. Alas, circumstances, financial and otherwise, have prevented me from obtaining one. Now they've been discontinued, replaced by the identical-looking TeleVue 101 (about $2600), which uses exotic glass elements in place of the conventional glass in the Genesis. Original versions were f/5. Prices for all used versions have been steadily rising. Buy now before the price gets unreasonable.
7) Astro-Physics Starfire 130 EDT (130 mm f/8 triplet apochromat, OTA only, $2450-$3250 depending on vintage) (Note: see related article)
My, oh my! What a scope. Available in 1992, these triplets were discontinued some years back, but have now been resurrected for 1998. Do not confuse this with the 130 f/8 doublets, which are not as well corrected (but still superb, world- class scopes) or the more popular new 130 mm f/6 EDF models.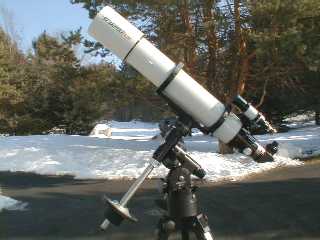 This scope has perfect optics. No spherical aberration, no false color. It is a good step up in performance from the Starfire 120 mm f/8, and despite having only an 18% light-gathering advantage over the Star 12, it feels like a much larger scope. The 130 will tax a GM8; a G11, or one of Astro-Physics' own mounts, is preferred. It may not look all that large at first glance, but at nearly 20 lbs, the Star 130 is a serious chunk of glass and steel. The OTA is beautifully-made, almost a work of art. The focuser is incredibly smooth. This, coupled with the no-doubt "snap" focus, gives the user a reassuring feeling of micro-control while using the scope.
In viewing tests, the Star 130 gives a little more of that "big refractor" performance, compared with the Star 120 or the Takahashi FS102. We caught a dual shadow transit on Jupiter, and the black dots were tack-sharp in times of steady seeing -- as if someone had used a hole-punch on the planet. Compared to my FS102, the Star 130 shows more detail in the cloud bands on Jupiter, and gave slightly sharper images on the floor of Copernicus. Later, we repeated the star test, and again found no aberrations. At high magnification, I thought I might have seen some undercorrection, but it was strictly academic and I wouldn't swear to it. Note that the AP 130 has an aperture advantage over the FS102. I didn't have an FS128 handy, but I suspect the 5" Tak would give the Starfire a good, hard run for its money. The only major problem you will have with this scope (other than the cost of setting up a complete, working rig) will be obtaining one. There's always a waiting list, and used ones seem to be selling for at or above the retail value. Looking through one, it is easy to see why Astro-Physics refractors are the scopes by which all others are judged. If you are one of the lucky few who can afford the cost and the wait, consider yourself very fortunate. And invite me over sometime...
8) Celestron C102ED Refractor (102mm f/9 ED doublet refractor, 6X30 finder, 20 mm Plossl, GP mount, $2450, NLA)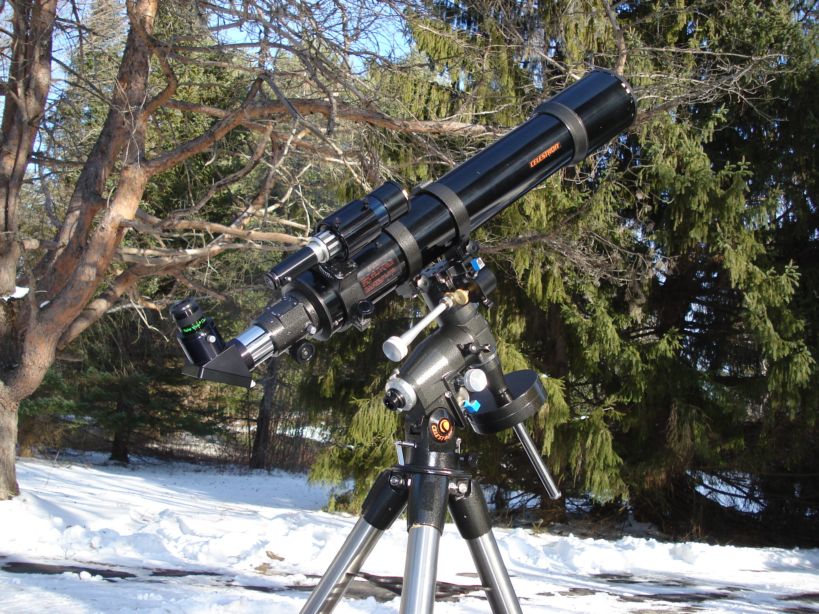 The C102ED on a CG-5
Celestron has offered many telescopes with the "C102" moniker, and it does get confusing. "Regular" C102 models are achromats, and operate at f/9.8. They were coupled with a GP mount and sold for about $1400. This ED version sold for about $1000 extra. Finally, there was a fluorite version. All of the above had black tubes, and were made by Vixen. To make matters more confusing, the 102 achromats and fluorite versions are now sold (in white tubes) by Orion. The price of the fluorite 102 has dropped to $2300, which is a major bargain. Finally, the newer C102 achromats, which are supplied with the cheap-n-dirty "HD" mounts, are made in China and sell for only about $600, which does not seem like nearly enough money.
The C102ED I saw has superb optics. False color is almost non-existent; I was surprised at how color-free an f/9 ED doublet could be. The color correction is much better than the ED refractors currently sold by Meade, for example. This scope will reveal a wealth of detail on Jupiter. It is a good leap in performance ahead of the C102 achromat, which will throw a slight purple halo around bright objects. The star test was nearly perfect. Set up next to the Takahashi FS102 and the AP130 EDT, the Celestron lost out by a tiny bit on demanding objects like close doubles and fine planetary detail. I should add, these differences were small. I don't think you'd notice them unless you had the scopes set up, side by side, the way we did. Like the Tak and the A-P, the C102ED is a reference-class instrument. Everyone seems to want a fluorite refractor these days, which means that prices on the used market for these ED versions should drop. They're worth seeking out.
9) 12.5" Mag 1 Portaball Reflector (12.5" f/4.8 Open Truss Dobsonian, $2795+ depending on configuration) (Note: see also Todd Gross' Review of this same scope)
Peter Smitka's Portaball Dobsonians are different. Looking like conventional open-truss Dobs coupled to a bowling-ball type mount favored by ATMs in times past, the Portaballs seek to combat certain position/comfort issues that have plagued traditional Dobsonians.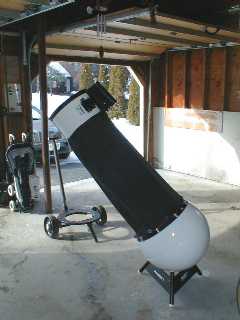 Innovation at work: The 12.5" Portaball
First, the sphere moves incredibly smoothly along its three teflon pads. I found myself waiting for an object to drift out of the FOV, just so I could move the telescope! Also, the whole truss can be rotated, so you can place the eyepiece at any height you wish. Nice. Those of you who have lugged around big, heavy rocker boxes are going to be shocked at how tiny the base is (it's about the size of a collapsed and flattened tripod.) Finally, there are many thoughtful features, including tethered hardware, easily-read markings, and convenient handles on the sphere. If you want to move the whole scope, you will have to be careful. You can't just set the sphere on the ground. Any scratches on it can affect its motions. To this end, Mag 1 provides an inflated inner tube to set the sphere on, should you decide to move the scope in the middle of your observing session. And if you find the motion of the scope too smooth, you are instructed to wax the sphere ("Honey, I'm going out to the garage to wax the telescope!")
By coincidence, I happened to review the model once owned by Todd Gross, and in fact drove down to pick it up at his house for a friend (we had a nice conversation, by the way.) It's a small astronomical world. The scope, when set up, looks like a giant white Astroscan with truss tubes. It is very small and light for a 12.5" Newtonian, and the parts will easily fit in just about any car you can name. According to the instructions, this one has a killer mirror: 1/28th wave. Images were very sharp, almost refractor- like with a 35 mm Panoptic on the Double Cluster (although the full moon prevented us from seeing very deep.) On Jupiter, the scope had some serious competition from expensive glass nearby (the C102ED above, the FS102, and the AP130EDT.) On this night, the refractors won out, but as Todd warned us, the Portaballs are extremely sensitive to seeing conditions. He reports the Mag 1 would outperform his own 130 EDF, when conditions allowed. Still, I thought Jupiter and Saturn were wonderful, and a healthy leap ahead of most Newtonians on these bright planets. It significantly out-resolves my 10" Meade, which has unusually good optics for a cheap dob. I can't wait to see some galaxies under dark skies. There are a few disadvantages. You can't use digital setting circles. It will have some balance issues with unusually heavy (or light) eyepieces. It looks funny. And the price is steep for a 12.5" - about (or over) $3000, depending on what options you order. Still, the Portaball succeeds at its intended goal: providing great optics in an easy-to-use, comfortable package, with smooth mechanics that will spoil you. New versions are f/5.
Update, 9/20/98: Under dark, moonless skies, the Portaball is a wonderful deep- sky scope. The scope's design allows you to move effortlessly from object to object. The ability to change eyepiece height with a twist of the wrist is a terrific luxury. Because of the convenience of the Portaball, I noticed I was expending less energy "using" the telescope, which allowed me to conentrate on viewing. I think during a long oberving session, a Portaball user is going be be a lot less tired, mentally and physically, from not having to wrestle with his telescope and mount. We caught a number of late-summer deep sky objects and verified the almost refractor-like sharpness of this telescope. Astigmatism crept in when using 32 mm eyepieces (the TeleVue Plossl and the Brandon.) On planets, the scope was delivering images close to those in a nearby Meade 178ED and an AP 155 EDF.
10) Celestron C102HD Refractor (102 mm f/9.8 achromatic refractor, "HD" mount, 6X30 finder, 20 mm Plossl, $650)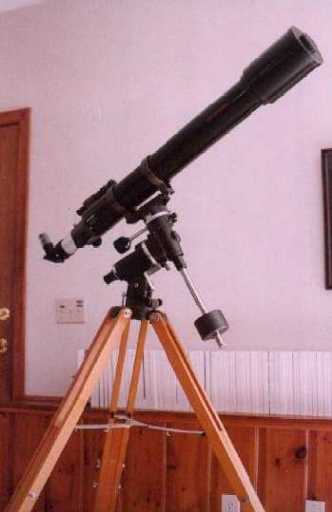 I bought this mostly out of curiosity. Many of us (myself included) who were fans of the C102GP ($1400) did a double-take when this latest version of the venerable 4" refractor debuted in early 1998 for only about $650. This did not seem like nearly enough money for a quality 4" achromat. Because I already owned a half-cousin of the "HD" mount (these cheap mounts are springing up everywhere these days!) I ordered the OTA and set it up on my Super Polaris. Yes, I know these Taiwanese mounts are supposed to be as good as the SP, I read the ad copy just like you do. I'll stick with the SP, thank you. At first glance, this newest, Chinese-sourced "HD" scope looks just like the previous (Vixen-Japan) version. However, there are some differences.
The tube is no longer 114 mm in diameter, it's now 102 mm, which means the OTA isn't baffled as well as before (there are 3 on mine.) The tube is so skinny it looks like a longer version of the C80 (of course, the new Chinese C80s have also been downsized.) The whole OTA feels lighter and cheaper than the old C102GP version, as well -- there's so much plastic, it almost feels like there's nothing inside. Also, the focuser, while good, is a bit rougher than the Vixen version. However, in a strange turn of events, the coatings on the new lenses are a deep, rich green, which appears darker than the light blue MgF coatings on the C102GP. Also, mine has a 2" focuser. Other C102HDs I've seen only have a 1.25" focuser, so there may be multiple versions of this scope floating around.
I tested the C102 along with its natural competitor, Meade's new 102ACHR/500. The Celestron is slightly undercorrected (1/8 wave or so) and shows some chromatic aberration at 100X on Vega and Jupiter. The Meade is slightly overcorrect- ed and has somewhat more false color. We both agreed that the C102's optics are a bit sharper - I could bring in detail on Jupiter more easily than on the Meade. Other than the false color, I couldn't find much wrong with the C102's optics. I did a brief late-summer Messier tour (M8,M20,M17,M16,M11,M26,M13,M57, M81,M82,M51, etc) and split some doubles. The C102 never let me down. I even went hunting for some obscure NGC galaxies in Pegasus (sorry -- no Stephan's!) Only when attempting to resolve low-level detail on Jupiter did I wish for my Takahashi. We agreed that the Meade's color and sharpness problems (relative to the C102HD) resulted from its too-short f/9 focal ratio. Still, if one must have the widest FOV from a 4 inch achromat, the 102ACHR/500 will do. Otherwise, I think I'd recommend the C102 to anyone seeking an inexpensive 4" refractor. It has better optics, and costs 30%, or about $350 less than the Meade, and even on absolute terms, it's darned good. You just have to live with some false color.
The scope performs almost identically to a 102 mm f/9.8 TeleHoon, which in principle is the same telescope (Hoon assembles OTAs using Vixen optics and parts.) Set up side by side with the same eyepieces, the C102 throws up slightly more false color, and gives up a tiny bit of sharpness as a result. Note that I do not know how good the QA is on these new scopes coming from China. However, if all of them are as good as mine, these new C102HD telescopes must qualify as a major bargain. Highly recommended.
End Telescope Reviews, Page 4
---
Back to Home Page
---