Telescope Reviews
Page 32
By Ed Ting
Updated 12/1/12
---
Click on a Telescope Below:

1) Orion Starblast 6 10/1/12

2) Celestron #21024 3" f/4 Dobsonian 12/1/12
---
1) Orion Starblast 6 10/1/12, 12/1/12

(6" f/5 tabletop Dobsonian, 25 mm, 10 mm Plossls, 1X red dot finder, was $299 retail, now $329 as of Nov 2012)

Another impulse buy. I've had good things to say about Orion's 4.5" Starblast, and had always wondered about how its big brother would perform. As luck would have it, just as I was thinking of ordering one, a Starblast 6 came up on Craigslist locally. I had some trepidation about buying it, as a recent sample of Orion's 6" f/5 Imaging Newtonian (same OTA as the Starblast) left much to be desired optically. Nevertheless, my curiosity got the best of me and I ponied up the cash. I was able to put it through its paces in the fall of 2012 under varying conditions.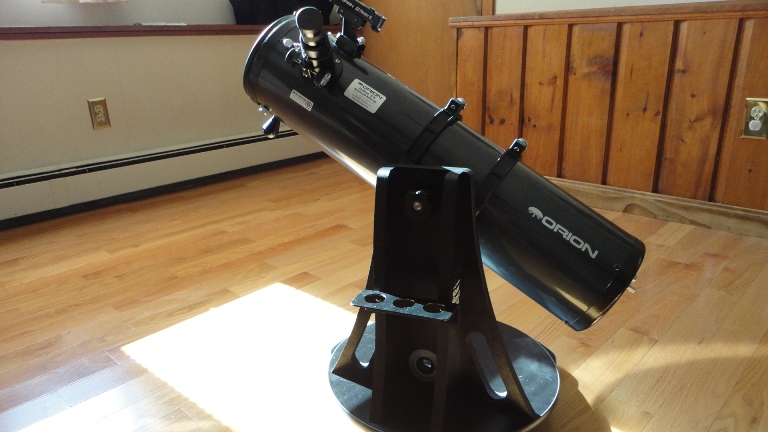 Orion's Super-Sized Starblast.
If you're familiar with the 4.5" Starblast, the 6" is subjectively larger, but not that much so. It weighs 23.5 lbs and is still manageable. You can leave it assembled inside and carry it out in one trip. However, I have not yet found a way to transport it in a car fully assembled. No matter how I brace it, wedge it, pad it, etc, it always winds up flopping over when I take a turn. As a result, I always take the tube off its rings when I have to drive it somewhere. And by the way, if you're a beginner, those rings may not seem like a big deal, but experienced hands will appreciate them. Detachable rings allow you to place the scope on a Vixen-style plate for use on all kinds of other mounts. This is a distinctive advantage over the Starblast 4.5, which uses one solid, non-standard tube ring around its OTA. If you're going to put the OTA on your own mount, the obvious choice is a CG-5, but if you want to stay with the Alt-Az spirit of the scope, a Vixen Porta, Astro-Tech Voyager, or Explore Scientific Twilight might fit the bill.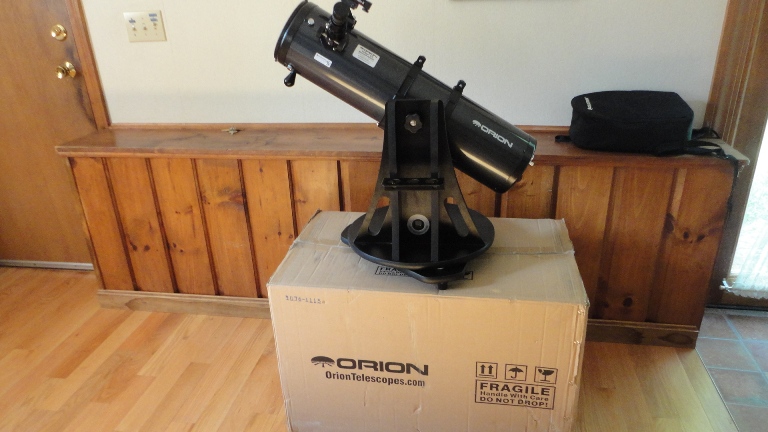 A Surprisingly Effective Short Term Solution to the Height Problem.
The biggest problem you'll face is the same issue everyone has with any tabletop scope - what are you going to set it on? I've browsed forums and talked with owners of Starblasts and Astroscans, and have yet to find a definitive solution that everyone can agree on. In a pinch, you can set it on the hood of your car or on a picnic table, but you'll soon realize the limitations of doing this. You can set it on the ground, but you'll be stooping over to look through it. One surprisingly effective short-term solution is to simply set it on Orion's shipping carton. The carton is just the right size at 32" X 19" X 21" and is well-braced inside. However, after a few dew-soaked nights, you're going to be looking for a more permanent solution. Here's what I wound up doing - I went to Wal-Mart and found a 31 gallon Rubbermaid storage tub. It's the right height, it's cheap (about $12.99) and you can store stuff inside. If you go this route, selecting the right sized tub can be a bit of a minefield. A good tub should have the following: 1) The lid must be large enough to accommodate the 16" spacing of the Starblast's feet, 2) The lid must have a lip to prevent the scope from sliding off, 3) The tub must be high enough (18" is a minimum), and 4) The inside of the tube should be large enough to carry the OTA for transport. The tub I bought fills all the criteria but the last one; the interior is just a little too small to store the OTA with the lid snapped on.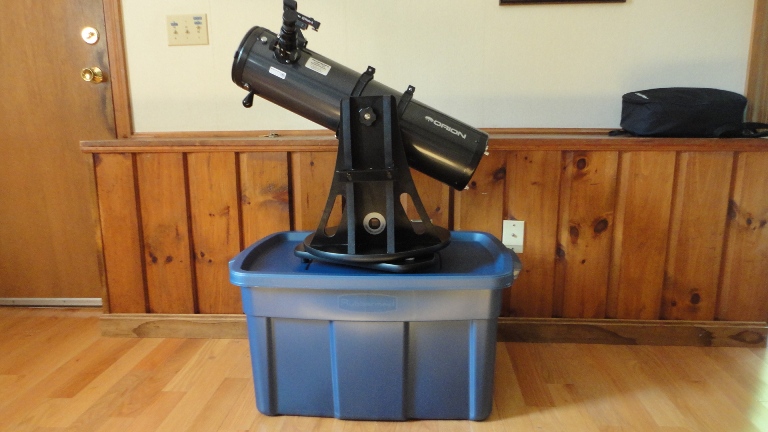 The Solution I Settled On - A 31 Gallon Rubbermaid Tub That Doubles as Storage.
Now that I had the rig customized to my liking, it was time to go observing. I used the scope about 10 times under varying conditions in the fall of 2012 at several places in northern New England. Optically, the scope is pretty good. The star test shows some undercorrection - easily forgivable in a fast, inexpensive Newtonian. Stars are sharp over at least 80% of the field of view; only at the edges do stars become elongated or comma-shaped. Having accurate collimation and good eyepieces helped. The cheap 25 mm and 10 mm Sirius Plossls that came with the scope are OK, but I quickly switched over to my 19 mm Panoptic and 13 mm Nagler Type6 for the rest of my observing.
I met several newcomers while I had the scope. The was fortunate, as I was able to teach basic star hopping techniques to the general public. The motions on the axes are smooth, better than I expected. The EZ Finder II works well and even first-timers were able to use it after a few minutes. I wound up looking at M31, M15, M27, M57, M56, Albireo, Mizar and Alcor, M81 & M82, M13, M92, and M11 at a recent public star party. The usual fall stuff. At our club's Fall Messier Marathon in Lyndeborough, NH, I logged 33 objects with it in less than one hour. It's an ideal MM scope - it's got decent aperture, the focal length is short and forgives star-hopping errors, and it's easy to move.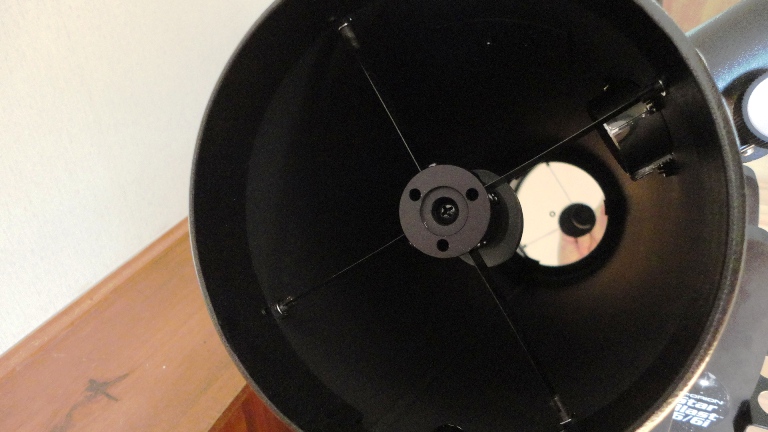 Looking Down the OTA.
Drawbacks? Aside from the what-are-you-going-to-set-it-on problem, the only real issue I have with it is the plastic focuser. This appears to be the same inexpensive focuser used on the Starblast 4.5, and I am already counting down the hours until it breaks. If and when it does break, you can get replacements from Orion, but they cost $29.95, and you're still stuck with another plastic focuser. What's more, third-party ATM suppliers don't seem to make or sell 1.25" focusers anymore. One time while attempting to drive the fully assembled scope to an observing location, the Starblast tipped over and landed with a crunch on the focuser. My heart skipped a beat as I pulled over to check. The focuser was undamaged, but I learned my lesson right then and there - take the OTA off and store it safely for transport!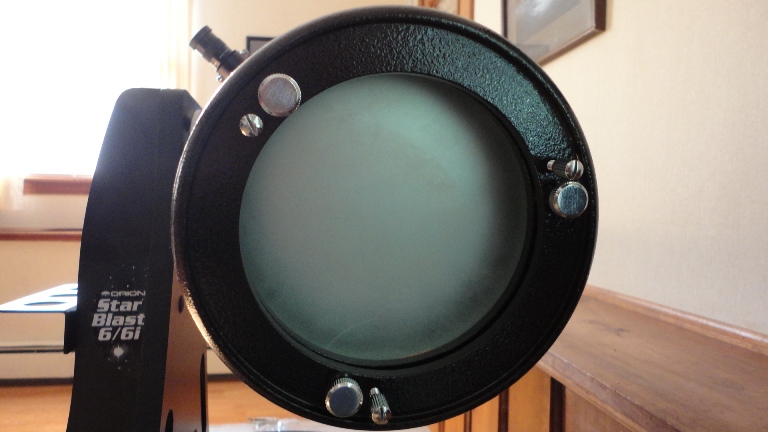 Rear of the Scope and Collimation Screws.
I'm having a lot of fun with the scope. In September 2012, I went on a business trip to a trade show Sugarloaf, Maine. This area of the country is known for its clear, dark skies. Not wanting to waste time, I decided to pack a scope. I was carrying the trade show booth and various supplies, so there was very little room in the car. The Starblast 6 fit perfectly. At night, my booth mate and I drove just far enough away from the hotel to get away from its lights, and were greeted by deep, black skies with a shiny Milky Way overhead. I did a little tour of the sky, using the 13 mm Nagler Type 6. I think we saw close to 25 objects in less than 20 minutes. (By the way, the day afterwards, my booth mate Kelly, who is from Louisiana, told me that in Baton Rouge you never, ever go out alone like that at night. I didn't realize she was nervous the whole time. Eh...sorry about that...)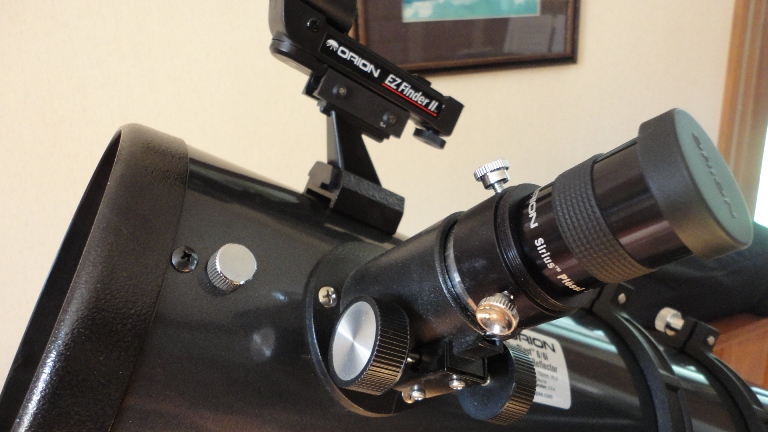 Close up of the Focuser and EZ Finder.
So the Starblast 6 is a great little portable scope at an attractive price, and I recommend it heartily to any of you who are thinking of buying one.
But.
For about the same price, Orion also sells the XT6 Dobsonian. The XT6 is an enduring classic in our hobby, and it's one of my favorite telescopes, regardless of price. The fact that it only costs $299 - $ 349 is nothing short of a minor miracle. Orion routinely discounts the scope, and sometimes even throws in free shipping! For roughly the same money as the Starblast 6, you get a full-sized scope that doesn't have to be set on anything, and it's f/8 optics are more forgiving (recent XT6 optics I've seen have ranged from very good to outstanding.) Unless portability is *the* paramount concern, I think it's hard to argue against getting an XT6. I've owned several XT6s and have regretted selling each one. In fact, just typing this makes me want to order another one...(PS: I think an updated review of the XT6 is long overdue.)
Recommended.
Orion Starblast 6 Hots:
Good step up from the Starblast 4.5

Packs a lot of punch for such a small, light scope.

Great for casual observing and as a learning tool.

Detachable rings allow beginners to grow with the scope.
Orion Starblast 6 Nots:
Need to set it on something.

Plastic focuser.

For about the same price, you could have gotten an XT6.
2) Celestron #21024 FirstScope

12/1/12

(76 mm f/4 Dobsonian reflector, H20 and SR4 eyepieces, $49 list, about $40 street)

Overheard at a recent club skywatch in Auburn NH in November of 2012:

Kid #1: "So what are gonna do?"

Kid #2: "We're, like, supposed to find some old guy and start asking questions."

Kid #1 (excited): "There's one!!" (pointing at me.)

Later that night, as I was closing the lift gate of my car on thousands of dollars worth of optics, I was wondering -old geezer that I am- if there are any real-world options for astronomers on a super-tight budgets. Like many of you, I've spent untold hours railing against cheap department store telescopes that won't show you anything. And like you, I've steered people towards scopes like the Orion XT6 ($329) and Starblast ($219.) Inevitably, people come back and ask if they could spend even less. At this point, many of us throw up our hands and say it can't be done, or we tell them to get a pair of binoculars and some books. But there have been a lot of inexpensive scopes hitting the market lately, and I got to wondering if any of them could possibly be any good.

Enter the Celestron #21024 FirstScope. At a recent club meeting, member Joel H was showing us the TeleVue Ethos eyepiece set he won at the Stellafane raffle this year (yes, he is a very lucky man.) Strange guy that I am though, I found myself more interested in his $50 FirstScope than his $3100+ worth of eyepieces. Could it be possible that someone can get a fully functional telescope for less than $50? That night, after the meeting, I found the scope on Amazon for less than $35, and they were even offering free shipping that day! The scope appears to be similar to the FunScope sold by Orion. Orion's version lists for $59, has a teal-colored tube, and includes a red dot finder. The FunScope comes with a more reasonable 10 mm eyepiece as opposed to the 4 mm unit supplied here, and can be mounted on a 3/8" or 1/4" X 20 tripod. It is also routinely discounted (for a few short hours on Cyber Monday 2012, the scope was on Amazon for less than $30!)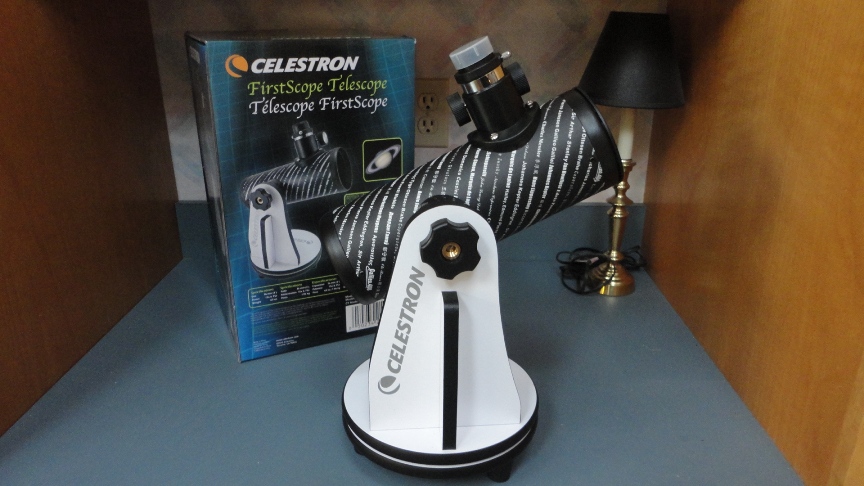 Celestron's tiny 3" f/4 Dobsonian
'Tis the season for impulse buying, so I bought one. The FirstScope #21024 (Celestron really should dignify the scope by giving it a better name) arrived a couple of days later. Wow, this thing is really tiny. The pictures don't really do this justice. A small child could easily carry the thing outside with one hand, and a normal 1.25" eyepiece will dwarf the tube. You get everything you need here - all you have to do is go outside, set it on something, and start observing. Celestron does sell an accessory kit consisting of 12.5 mm and 6 mm eyepieces and a 5X24 finder for about $20 extra. Don't bother - none of this stuff is useful. In fact, only the 20 mm eyepiece is usable, and even that's a stretch. Apparently of Huygenian design, it has a tiny field of view and will throw up some false color (seeing false color on a reflector was a bit of a strange experience.) The 4 mm eyepiece is useless - toss it.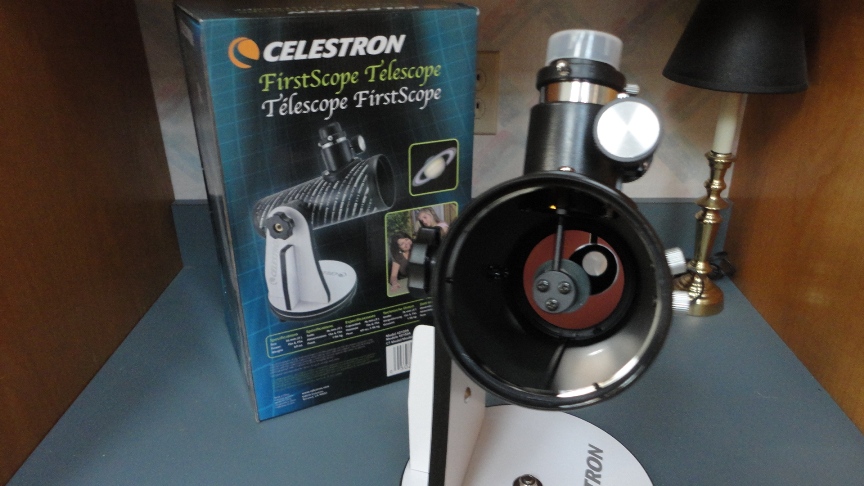 Looking down the tube. Note collimation screws on the secondary.
So how does the scope perform? First of all, it doesn't have a finder, so you're going to be sighting along the tube. While experienced astronomers will have no trouble with this, I can picture beginners having some difficulty here. Sighting across the tube isn't always easy or intuitive. The motions are decent, but I did notice that the altitude knob would come loose after a few minutes of use. I wound up tightening it several times during the course of the evening. Also, as stated before, the 20 mm eyepiece is nothing to write home about. I was determined to use it as long as possible, to duplicate the experience of a first-time user. The focuser is plastic, and appears to be similar to the one on the Orion Starblast. The FirstScope is cheap enough that if the focuser on your Starblast breaks, you can always buy one of these and have a lot of spare parts left over!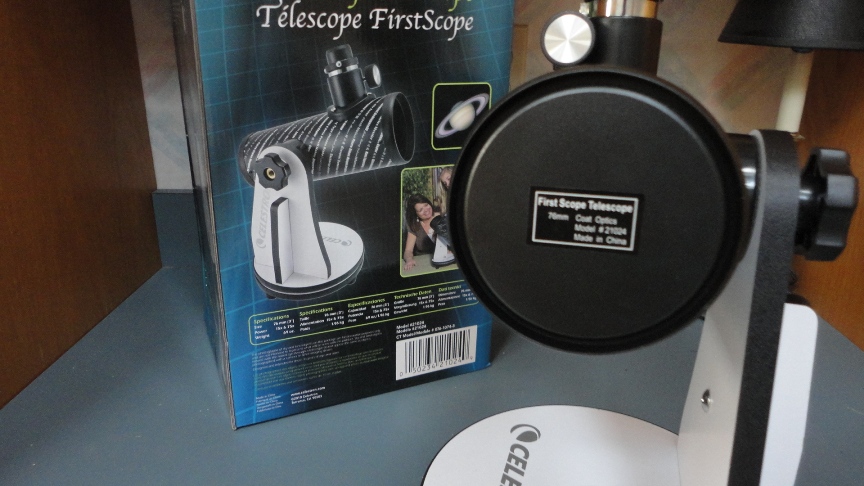 Hate to collimate? No worries here - the primary is fixed and no adjustments are possible.
As for the optics...well, they aren't anything to write home about either. The primary is spherical, which isn't a big concern at this price level. Still, the star test was a bit of a mess; the out of focus patterns on either side of focus weren't even close to being the same. The scope arrived rather seriously out of collimation. This is a concern, as you can't collimate the primary (adjustments are possible on the secondary.) I cleaned up the collimation the best I could and left it that way.
I'm often asked by beginners what can see with a small telescope their first time out. If you're new at this, and have one of these FirstScopes, here's what you can hope to see:
Easy - The moon, Jupiter, Saturn, Venus.
Moderate - With some practice, you can see larger, brighter deep sky objects like M31 (the Andromeda Galaxy), M42 (the Orion Nebula), M45 (the Pleiades star cluster), the Double Cluster in Perseus, and double stars like Albireo in Cygnus, and Mizar/Alcor in Ursa Major (the Big Dipper.)
Difficult - If you've seen everything in the above list, you can go after the next objects. But keep in mind, you are starting to stretch the limits -both optically and mechanically- of this telescope. Try for M27 (the Dumbbell Nebula), M13 (globular cluster in Hercules), NGC 457 (cluster in Cassiopeia)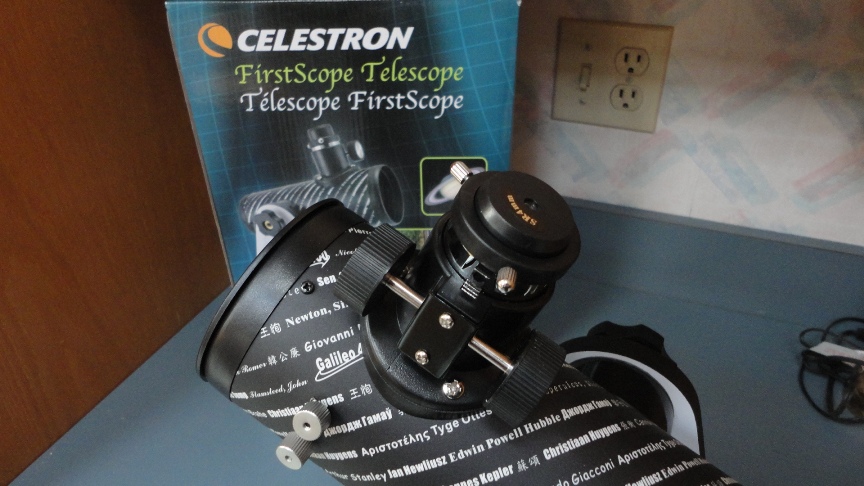 In addition to being useless optically, the 4 mm eyepiece is really hard to get out of the focuser. Hint: loosen the
screws and turn the scope upside down. Preferably into a trash can.
How are the views? Eh...let's just say I've seen sharper optics. The moon looked soft even at 15X with the supplied 20 mm eyepiece. In addition, there was false color from the eyepiece along the rim. Stars aren't sharp in the outer 1/3 of the field. Albireo was tough to split at any power (this is normally an easy double to split.) The Double Cluster looked OK, but the streaked stars along the edges detracted from the enjoyment of the view. Jupiter's moon's were visible, but not terribly sharp. With some diligence, I was able to find most of the objects I listed above, but by the time I got to the dimmer stuff, things started getting rough. Although I was able to do some semi-serious observing with it, let's be honest here - most FirstScope owners are going to be limited to looking at the moon, and maybe Jupiter and Saturn.
After getting a feel for the scope for a while, I switched to better eyepieces. The 19 mm Panoptic cleaned up the view nicely, and a 9 mm Nagler helped a lot for medium power observing. Unfortunately, most buyers of this scope not only won't have a $250 eyepiece handy, they may not even be aware that such things exist.
Am I being too harsh on this scope? Maybe. But Celestron (and Orion) market the scope as a serious observing tool, so I feel it's fair to treat it as such. I don't see much harm in getting one - in fact, as I was doing research for this article, I was surprised to find how many of you own these. If you are a complete novice and you absolutely cannot afford more than $50, I'd say it's OK to get one of these, with the caveat that you go out with an experienced observer who can show you the ropes. The FirstScope is a stepping stone, and if it provides a launching pad for budding astronomers, I think it's a good thing. The scope exceeded my expectations, but, I have to admit, my expectations were low.
At another recent school skywatch in Litchfield, NH, I set the FirstScope on a friend's observing table, and then attended to my other, larger scope nearby. As the evening wore on, I forgot about the little FirstScope. Late in the evening I stumbled on a group of kids huddled around the scope. One of them screamed with delight when he found the first quarter moon. At that moment, he didn't care about the 20 mm eyepiece's narrow field of view, the false color on the limb, or even the fact that the optics were dewed over. It was the simple joy of discovery. A joy that has been nearly forgotten by this aging astronomer as the years have passed, and as memories have dimmed. I guess you'd call that a recommendation.
Celestron #21024 FirstScope Hots:
It's a complete telescope for under $50.

Simple operation won't confuse newcomers.

Small enough for a child.
Celestron #21024 FirstScope Nots:
No finder, altitude knob comes loose, useless 4 mm eyepiece.

So-so optics.

Not much to look at after you find the moon, Jupiter, and Saturn.
Verdict:
---
End Telescope Reviews, Page 32
---