Various Reviews, Page 9
By Ed Ting

Updated 9/1/10
---
1) OIII and Nebular Filters from Andover Corp

2) Scope Armor Cover

3) Eyepiece Caps

4) Observing Vest from Dark Skies Apparel
---
1) OIII and Nebular Filters from Andover Corp 6/30/04

($135 each in 1.25", $227 in 2")

Lumicon, Orion, etc. aren't the only games in town for deep sky eyepiece filters. While working my rounds as a local technical sales rep (i.e., the job that pays the bills) one day, I happened upon a local manufacturer of optical products. It turns out they've made H-Alpha filters for major observatories, as well as nebular filters, for years and have been trying to get the word out (their office walls are decorated with some spectacular solar photos by the way.) You can shop for various optical items at their web site at www.andcorp.com. Andover loaned me a couple of their 1.25" filters. One is an OIII, the other is simply labeled "Nebular Filter." Both units came with individual test reports showing the bandpass characteristics of each filter.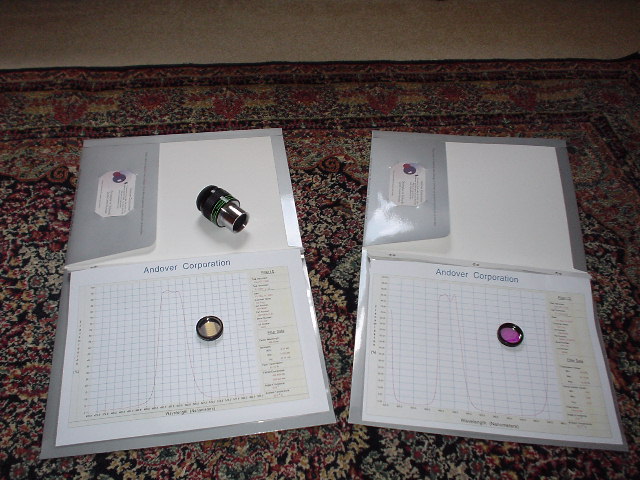 Andover Corp's OIII (L) and Nebular (R) filters, with test reports (TeleVue 19 mm Panoptic for reference)
I used these filters over several nights in the 16" Night Sky, TeleVue Genesis, and Orion XT8 scopes. Eyepieces used were TeleVue 32 mm Plossl, 14 mm and 10 mm Radians, and 19 mm Panoptic. Eventually I settled on the 16" Night Sky and the 19 mm Panoptics (I have two of these and left the Andover and Lumicon OIII filters screwed into them.) The objects viewed were primarily the Ring, Dumbbell, Veil, and Lagoon nebulas.
At a recent club skywatch, I handed both 19 mm Panoptics (with the OIII filters installed) to a number of experienced observers. Since it was dark out, they had no way of knowing which filter they were looking through. I trained the scope on the Ring or Dummbell and told them to switch eyepieces as often as they liked, and to tell me which one (if any) they preferred. This took about two hours. The results? Two preferred the Andover, two preferred the Lumicon, and one was neutral. All the observers said the differences were slight and that they would be happy with either unit. I guess it's a tie.
I should mention at this point that an OIII is an aggressive filter, and that they work best when you have some aperture to work with. The view gets dark, fast, with one of these. For optimum use, I might suggest a minimum aperture of around 8" - the more the better. If you have a smaller scope, you might want to purchase a UHC- type filter, or the Nebular filter, below, which is slightly less aggressive. (Note that there are exceptions to everything. A favorite stunt is to put a 2" OIII filter on a 35 mm Panoptic and take in the whole Veil.)
Andover's "Nebular Filter" is a different animal. Based on its performance and its bandpass characteristics, I would place it bewteen "deep sky/skyglow/etc." filters and UHC filters in strength, leaning towards the latter. Andover may have found a niche here for people who are looking for a stronger deep sky filter, or a weaker UHC.
Experience shows that many novices have incorrect notions about these light pollution filters. Some beginners think that having one means that you can cheerfully observe from heavily light-polluted areas, relying on the filter to remove sky glow. While these filters will remove emissions from mercury street lights, etc, there are problems that are introduced in the process. Observers should keep in mind that these units are rejection filters as well as bandpass filters. They effectively reject most wavelengths of light. An optical device that rejects most wavelengths is, for many purposes, a mirror * (look at the photo of the OIII filter above to see just how mirror-like it is.) If you have too much skyglow in your area, the filter will simply shine it right back at your eye and you will see little or nothing. The worst case is one where a light source is directly behind your head. In other words, there's a bit of a Catch-22 associated with any light-pollution filter - the darker your site, the better they tend to perform.
By the way, a chart of "filter aggressiveness" might look like this (weakest at L, strongest at R):
Broadband/deep sky/skyglow --> Andover "Nebular Filter" --> UHC --> OIII --> H-Beta Recommended. (* PS: Stupid-Human Trick #228: You can amaze your friends by predicting how strong a filter is by looking at its finish. The more mirror-like it looks, the more aggressive the filter is likely to be. Weaker filters tend to have a blue or purple tint to them.)
2) Scope Armor Cover 3/25/07 ($39.95 to $199.95 direct, varies sizes)
I have a bunch of little things to review and it's high time that I got them off my desk. One of them is this Scope Armor Cover from Scopearmor.com. Many of us leave our scopes outside for the evening for one reason or another, and like you, I've resorted to using blankets, tarps, and other stopgap solutions. This vinyl cover from Scope Armor is a dedicated cover for your small refractor, SCT, or mid-aperture Newtonian.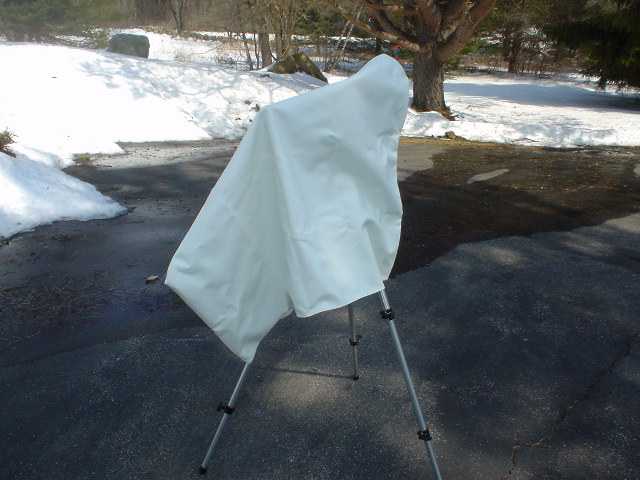 The Scope Armor Cover on my Pronto
The Scope Armor says it's "The First Line of Defense For Your Telescope" and is said to repel water, resist heat, scratches & dents, and is made of durable marine/military grade materials. The cover does appear to be of high quality. It's thicker than a tarp and heavier than it looks in the photo. It carries an impressive 5 year unlimited warranty.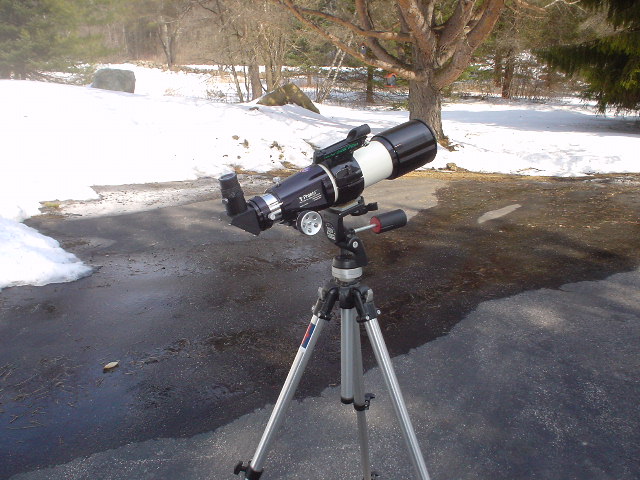 The Pronto, no cover
I left my scope covered outside several nights in a row. My main concern is that the cover would collect dew under its thick canopy (it's humid up here in NH.) However, I was pleasantly surprised that the Pronto stayed bone dry every night. I can't guarantee that this will be true for all cover/ scope combinations, but apparently the cover is thermally inert enough to keep in just enough heat. Nicely done. The prices range from $39.95 to $119.95, depending on your scope (check their website for details.)
3) EyepieceCaps 3/25/07
($6 to $26 per pack, depending on size and quantity)
The folks at EyepieceCaps.com have come up with a nice assortment of vinyl eyepiece caps to replace your old or lost original caps. Their made of thick, stretchy plastic and are colored bright yellow (or red) so you can see them in the dark (or on the ground.) I got a bunch of them and immediately set to capping and plugging my scopes and eyepieces. They seem to protect your eyepieces better than stock caps. About the only thing I didn't like is that smaller eyepieces have trouble standing up with the caps on, since the caps have a small raised dimple in the center.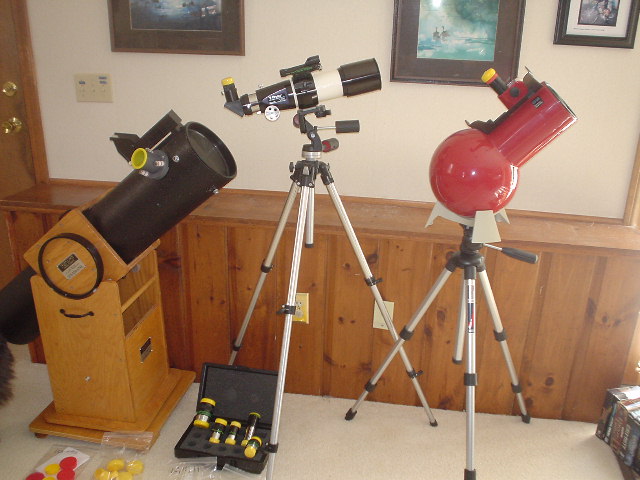 Eyepiece Caps in some of my scopes
There are also caps made for your focusers, the end of your SCTs, and your T rings.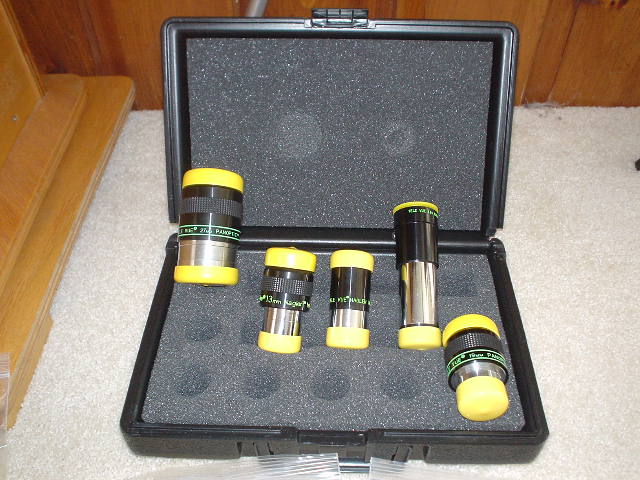 The yellow color is easier to see in the dark or on the ground
Over time, I grew to prefer the Eyepiece Caps to the original caps in my eyepieces and scopes. They're well-made, and cheap. Prices range from $6 for packs of 5 or 10 eyepiece caps, to mixed bundles of plugs and caps from $16 - $26. Check their web site for the fit list. Recommended.
4) Observing Vest from Dark Skies Apparel 9/1/10
(Cotton observing-specific vest, $75-$80 hooded, $60 non-hooded)
Like many of you, I don't give much thought to my clothing when I go observing. As long as it keeps me warm in the winter, and keeps the bugs off me in the summer, I'm happy. As for the stuff I need - eyepieces, flashlight, pointer, etc. I just stuff them into whatever pockets happen to be available. Wouldn't it be nice to have some observing-specific clothing made just for us? Enter Dark Skies Apparel, run by the enthusiastic Dragan Nikin. The cotton vest has three tiers of pockets and closes with a buckle in the front. The four largest pockets are at the bottom; they're each big enough to comfortably hold a 35 mm Panoptic on its side. The middle tier has four pockets that will hold eyepieces like the 22 mm Panoptic standing straight up, or mid-sized units like the Radians on their sides. Finally, at the top, there are three long thin pockets for your flashlight, pen, pointer, reading glasses, etc.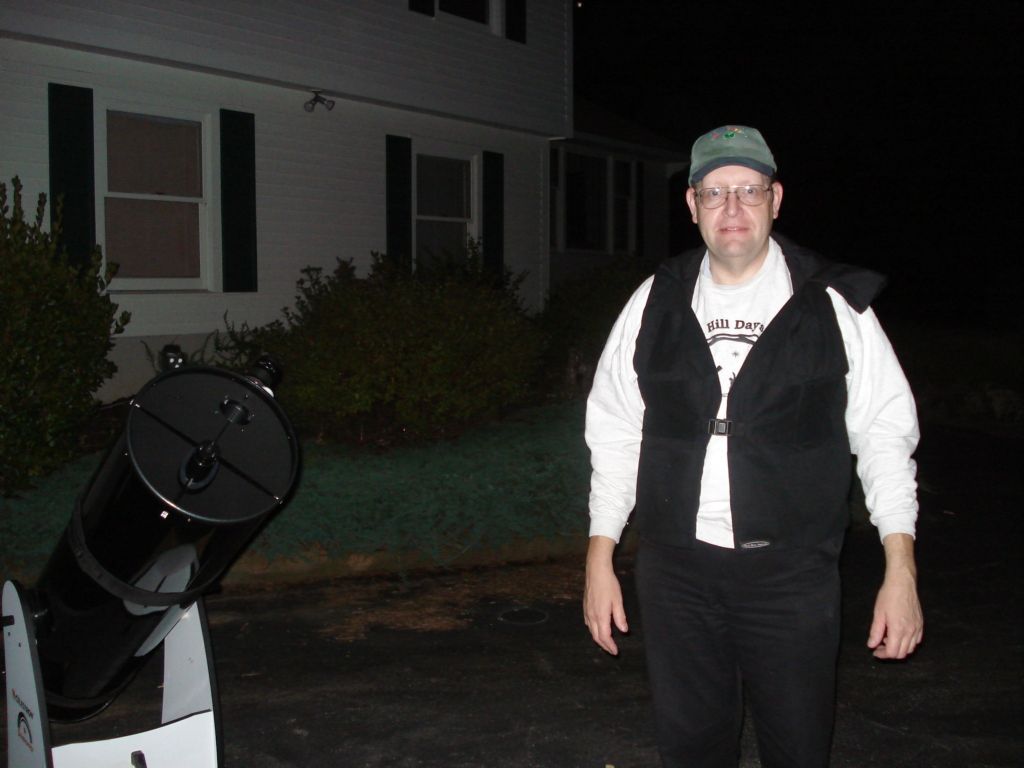 What the fashion-forward astronomer will be wearing this season - from the Fall Collection at Dark Skies Apparel
The vest has some advantages that might not be apparent until you start using it. Obviously, if you load it up carefully, you may not need to go back to your eyepiece case during the observing session. If you have a tall Dobsonian, for example, it will save you some trips down the ladder. Having the eyepieces close to your body helps keep the dew, fog, and frost away. If you gets yours with the hood (which I highly recommend) you can drape it over your head while you're at the eyepiece to keep stray light away.
Currently the vest comes in one (large) size in the non-hooded version, and two (regular and XL) sizes in the hooded version. Check the Dark Skies Apparel web site for sizing details and product updates. The vests are deliberately on the large size to fit over your other clothing (it needs to be the outermost layer to be its most effective.) The standard size was a little to big for me in the summer, but I suspect it will be just about right to fit over my winter clothes. Since it's the summer here now, I passed the vest around the observing club to see what people thought. The comments were good - the only thing that came back was that it fit some people better than others. A couple of observers mentioned that it would have been nice to have an adjustable center strap.
Well thought out. Recommended!
End Page 9
---
Back to Home Page